How to Choose The Right Artificial Grass For Your Project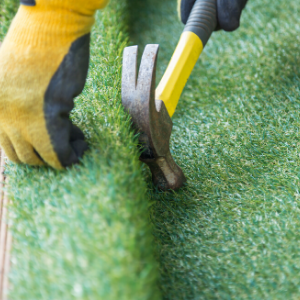 Deciding to make the switch from natural grass to artificial grass in Toronto is definitely a step in the right direction. But before making the official switch, it's important to determine how to choose the right artificial grass for your project.
With many different types of turf to choose from and a variety of areas to install, EchoingGreen has the resources available to help you choose the perfect artificial turf in Toronto for your project. But first, you need to ask yourself a few questions.
1. What Are You Using Your Synthetic Turf For?
The first thing you want to consider is what exactly are you using your turf for? Are you looking to simply add an aesthetic to your residential or commercial landscape? Will it be used for sports, low traffic areas, or as an indoors aesthetic? Whatever you plan to use it for will determine the shape and kind of grass you want to purchase.
2. Do You Have Children?
For both parents and children, there are numerous benefits to installing artificial turf. Not only is synthetic grass easy to clean and maintain, but it's also incredibly safe for children to play on. You no longer have to worry about children slipping and falling, hurting themselves or getting dirty. EchoingGreen offers specific artificial turf for your children that comes with our Playlite underpad. The underpad is thick to provide support if there is an accidental fall.
3. Do You Have Pets?
Pets are another great reason to invest in artificial turf. Pet turf helps your lawn stay fresh and green despite urine, feces, or digging. We offer a specific pet turf that allows you to have both a beautiful and safe environment for your pets. Our products have zero chemicals, pesticides or weed killers making it extremely safe for your pets to roll around and play on.
4. What Aesthetic Are You Going For?
One of the more important things to ask yourself before installing artificial grass, is what kind of aesthetic are you going for? In order to decide the shape, colour and texture it all depends on your personal preference. Not only does EchoingGreen help you decide which turf is best for you, but we can also customize any space you want. Whether it's a logo, colour, or even a wall, the choice is your and we can help.
5. Why Choose Echoing Green for Artificial Grass?
Finally, when deciding on the right artificial grass in Toronto for your project, you want to ensure that you're using the right company.
At Echoing Green we provide eco-friendly artificial grass installation that can help enhance the look of your lawn, backyard, residential or commercial space. Our artificial turf is European quality, providing you with the highest quality products on the market. If you're thinking of installing artificial turf, contact the experts at Echoing Green today at 647-494-4883.