How to Choose the Best Artificial Turf for Your Business?
Savvy business owners are always looking for new ways to improve their appeal, appearance, and return on investment. There are many ways to go about each of these goals individually, but artificial turf in Toronto offers an all-in-one solution. With luxury European artificial turf installation from Echoing Green, businesses of all kinds can realize long-term cost-savings, improved interest from customers, happier employees, and an enhanced reputation. The benefits of commercial turf in Toronto are hard to argue with, so the main decision is which turf to choose.
At Echoing Green, we offer a selection of high-quality turf designed for performance in a variety of applications and manufactured in state of the art facilities in Europe. Here are some tips to help you choose your perfect turf.
Backing & Tuft Lock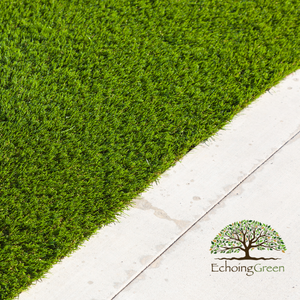 Artificial turf in Toronto is a great investment for indoor and outdoor flooring alternatives because of its lifespan. When choosing a supplier ahead of artificial turf installation, it's important to assess the elements that contribute to durability. Two significant contributors to the quality of artificial grass are the backing material and security grass fibres.
There are two backing materials you will likely encounter in your search for turf: latex or rubber and polyurethane. Polyurethane backings are the most advanced material used in artificial turf, it is better equipped for Canadian weather, whereas latex is more likely to break down during the freeze-thaw cycle. Polyurethane is also flexible and lightweight for easier installation. At Echoing Green, all of our grasses are engineered with polyurethane backings that secure fibres tightly.
Turf Length/Pile Height
Most artificial grass suppliers will offer turf with fibres in different lengths, this is referred to the pile height, and it measures the length of the grass from the base of the truf to the tip of its fibres. The optimal pile height depends on the aesthetic you're looking for and the functionality you want the turf to serve. If artificial grass installation is in high-traffic areas, shorter grasses are recommended versus areas with lower foot traffic where longer grasses are well-suited. If you're not sure exactly which artificial grass to select, the team of experts at Echoing Green are happy to guide you through your options, so you can select the right artificial turf in Toronto for your business.
Functionality
Artificial grass installation is commonly used for landscaping, but there are so many more possibilities. At Echoing Green we design and build custom putting greens, prefect for outdoor spaces, offices, and even bars. If you are looking to install a putting green, you can choose from our selection of high-quality putting green grasses made for high-traffic and built to facilitate ball roll.
If your business serves pet owners or dogs, you can opt for our pet-friendly artificial grass for dogs, that's comfortable and safe for pups and play.
Custom Turf Options
Not all artificial grass has to look the same. At Echoing Green you can customize your turf to align with your branding. Try custom turf colours or get your artificial turf printed with your company logo. This is a fun way to attract customers and maximize your space.
Shop Commercial Turf Options
Don't settle for just any artificial turf in Toronto. Browse an array of luxury options from Echoing Green.