How to Care for Your Putting Green Turf
Installing your very own backyard putting green turf allows for optimal golf play, practicing your swing and can increase the value of your home. But with unpredictable weather in Toronto, it's understandable that you might be nervous about how your putting turf might be affected.
While artificial grass in Toronto requires little to no maintenance, there's no harm in figuring out how to properly maintain your turf to get the most of out it. Whether your artificial putting turf is installed indoors or outdoors, rooftop or backyard, maintaining and cleaning it is relatively simple and easy. Like any golf course, you always want your putting green turf looking fresh and in it's the best shape.
Here's how to care for your putting green turf.
How to Clean Putting Green Turf
Create a Maintenance Schedule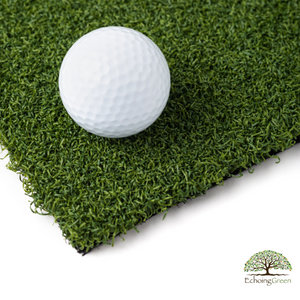 With real golf turf, you have to worry about monitoring sunlight, water, soil conditions, fertilizer, and having it professionally mowed or cut. But with artificial turf, you simply have to worry about keeping it clean from dirt and debris. Hosing down your backyard putting turf once a week can help keep its longevity and freshness.
Taking Precaution and Cleaning Your Turf
While certain activities are encouraged when enjoying a nice afternoon in your backyard, it's important to always take precautions to ensure it doesn't get damaged or dirty. If you are smoking or drinking, try your best to keep it away from the grass. As well as any other chemicals, food, or other items that can ruin the grass. However, if you do spill on it, hosing it down or creating a simple mixture of soap and water should do the trick. It is also often recommended to do a more thorough cleaning each month in case any food, dirt, or drinks get stuck between the blades.
Brush Clean With A Rake
Another way to properly maintain and clean your backyard putting turf is by brushing it clean with a rake. The spikes on the rake are the perfect tool to sweep away any leaves, objects, dirt, and garbage.
Perk Up Grass Blades with a Broom
If you're planning on using your putting turf often, it's no surprise that the artificial grass blades can flatten out and lose its fresh, vibrant look. A stiff-bristled broom can help reshape and perk up any dull pieces of artificial turf.
Step Onto Your Custom Putting Green with Luxury Artificial Grass
Echoing Greens professional and seasoned crews can help you design the perfect putting green for your home. We offer a cutting-edge, realistic-looking practice putting green to help improve your game. With an Echoing Green putting green artificial grass installation, there's no mowing, watering, or mud to interfere with your game. All you have to do it keep it free of debris and maintenance your putting turf regularly.
If you're ready to install your very own backyard putting green contact us today at 647-494-4883.