How to Avoid Lawn Damage with Artificial Turf for Dogs
Keeping your lawn in tip-top condition can sometimes be difficult, especially if you're a dog owner. Unlike artificial turf for dogs, natural landscaping grass is easily torn or damaged by dogs playing, running, and relieving themselves on your lawn, creating holes, exposing imperfections, and displacing soil. After spending hours on your lawn maintenance and money every month on supplies, the last thing you want is for your dog to ruin your hard work.
Synthetic grass allows your pets to run freely and do their business on the turf with zero damage. At Echoing Green, our selection of pet turf, dog run turf, and landscaping grasses are designed to be resilient, even with the wildest dogs.
Read on to learn more about how artificial turf for dogs combats common lawn damages.
Stained/Burnt Grass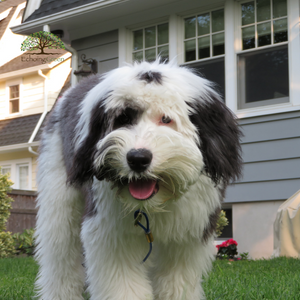 With natural grass, your grass will burn if your dog urinates on it from the nitrogen in the urine. To remove this, it needs added chemicals and maintenance. With artificial turf for dogs, little to no maintenance is required to make your lawn look luscious, green, and fresh. Simply rinse the front or back yard to maintain the turf's excellent condition. Reach out to Echoing Green for high-grade, beautiful turf.
Durability
Dogs should be able to roll around and run on in the lawn without the landscaping turf immediately showing wear. Unfortunately, with natural lawns, the individual blades of grass are easily pulled from the ground as sharp paws pass through, leaving bald patches in the ground. Artificial turf for dogs keeps synthetic fibres in-place with a strong tuft-lock and advanced polyurethane backing that is durable and tug-proof, so fibres stay in place for decades.
The resilience of residential pet turf and dog run turf is enhanced when installed by industry experts, such as the Echoing Green team. We use quality materials and detailed installation to ensure your turf is secure throughout your property so it can stay in place even during the roughest play.
Smelly Odours
Your dog's toilet is outside; they should feel safe using the washroom, and so should you. But when your grass is adequately equipped, it can quickly become a problem. Dog run turf and residential pet turf from Echoing Green are designed to facilitate drainage liquids, while MicroBan technology featured in the infill helps eliminate smelly and harmful bacteria. If you want extra protection, you can find easy-to-use AquaKlor in the online Echoing Green store to further remove bacteria, odours, contaminants, and stains.
Why Choose Echoing Green For Artificial Grass For Dogs
Artificial grass for dogs from Echoing Green is a high-quality, European-made solutions designed to keep you and your pets happier and healthier. Our turf is UV protected, environmentally friendly, and non-toxic. Synthetic turf is perfect for any dog owner who has had enough of upkeeping their grass and wants durable, long-lasting turf that remains in good condition.
Contact Echoing Green to install artificial turf for your dogs.