How Synthetic Turf Installation Prepares Your Lawn for Spring Rainfall
Toronto and the cities encompassing the Greater Toronto Area are no strangers to precipitation and rainfall warnings, especially in the spring as the weather becomes more temperate. For homeowners tending to their freshly thawed lawns, extended periods of wet weather are more than just a nuisance; they can wreak havoc. Artificial grass in Toronto offers homeowners a viable alternative that better withstands the city's springtime conditions.
Here's how synthetic turf installation will equip your lawn for Toronto's spring weather.
What Does Rain Do to Natural Grass?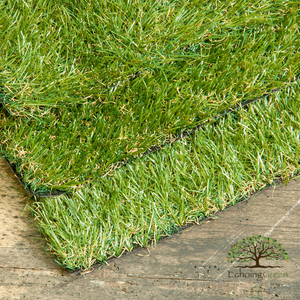 Water is supposed to be good for natural grass, but in excess, it has the opposite effect. The roots of traditional landscaping grass don't grow deep into the Earth. As a result, they can be quickly overwhelmed on rainy days. When the ground becomes oversaturated, grass suffers, air pockets in the soil will flood, causing the roots to absorb excess water and essentially drown. Drenched in water, grass roots become susceptible to various infestations or diseases like mold and edemas that lead to rotting.
Unlike artificial grass in Toronto, natural grass requires topsoil to stay healthy, but as lawns flood, the soil quickly turns into mud. For pet owners or families with small children, a muddy lawn is a nuisance that means messy hardscaping and even pawprints and shoe prints trekked indoors. For those with natural grass lawns, March is just the beginning of increased rainfall in the city, a trend that peaks in July. Synthetic grass installation effectively mitigates the impact of oversaturated grass and other tedious lawn care issues.
How Does Artificial Grass in Toronto React to Rain?
Design: Artificial grass in Toronto from Echoing Green is designed with strategically placed fibres and a permeable backing that enables effective drainage. During synthetic turf installation, there is an additional effort to ensure that the base can also facilitate the movement of water away from the surface.
Not Alive: No matter how much artificial grass in Toronto gets wet, there are no roots. All fibres are synthetic; thus, rotting simply cannot happen. As a result, the durable artificial turf can survive days of rainfall without deteriorating or declining performance.
No Mess: Sod or grass seeds need a significant amount of soil and water to grow, but artificial grass in Toronto does not require any topsoil during installation. Because there is no dirt, wet turf won't result in a mess, even with pets or young children running around.
Mold & Disease-Free: Artificial grass in Toronto does not attract mold and prevents bacterial growth from festering even at its base. Mold, which needs organic matter, heat, and water to flourish, cannot infest synthetic lawns after downpours of rain because the turf has zero cellulose, and infill acts as a cooling agent. At Echoing Green, we use Envirofill infill for our synthetic turf installations.
Synthetic Turf Installation with Echoing Green
Not only can you get high-performance European-made artificial grass in Toronto from Echoing Green, but we offer high-quality synthetic turf installation too. Our team of experts provides quality workmanship to ensure your new lawn endures all the weather conditions Southern Ontario throws its way.