How Long Does Artificial Grass Last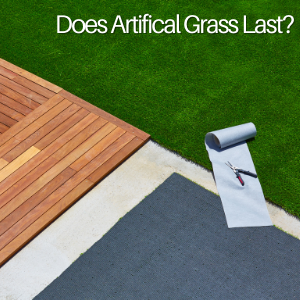 In the past, artificial grass in Toronto was mainly used for putting greens and well, that's about it. Since its inception, and in more recent years, homeowners, commercial real estate owners and even business owners are discovering the benefits of artificial turf not only for putting greens but for landscape design, indoor aesthetics as well as designated spaces. In most cases, it's difficult for one to notice the difference between real grass and artificial grass. Real grass can last up to 30-40 years with the right maintenance and upkeep, but how long can artificial grass installations actually last? This blog outlines the potential lifespan of artificial turf in Toronto.
The Lifespan of Artificial Grass in Toronto
When it comes down to how long artificial grass might last, it always goes back to its quality. Echoing Green provides high-quality installation processes with high-quality artificial turf in Toronto. With proper upkeep and maintenance procedures, one's artificial grass can last up to twenty years. Again, that all depends on how well you care for your artificial turf.
While artificial grass is deemed to be maintenance-free in comparison to real grass, it still requires some TLC to ensure it stays in tip-top condition and lasts for many years to come. Besides a proper installation process, here are a few ways to increase the longevity of your artificial turf.
Using a broom or rake, every once in a while. It's important to free your artificial turf of any leaves, branches or debris. While leaving these items won't actually cause damage to your turf, removing them will only increase its lifespan.
Another way to increase its longevity is to thoroughly brush through your synthetic turf every few weeks. With consistent use, it makes sense that the plastic fibres may flatten or curve in a specific direction. Brushing it will help keep the grass in perfect condition and brush up any dull areas.
Remove stains right away! If you have any pets at home, or young children that spill something on your turf, it's important to remove any of their spillages right away before it gets lodged in the grass fibres.
If you have patio furniture or any other heavy items on top of your artificial grass in Toronto, try moving them around the lawn to avoid indentation in specific areas on your turf.
The Leaders in Artificial Turf
Despite artificial grass not leading as long of a life as real grass, it is still a worthwhile investment. With high-quality installation and products, we can assure you that you're maintenance fees, and hydro fees will decrease with the installation of artificial grass. What's more, with proper care, your turf may outlive your expectations.
For eco-friendly and quality turf products in Toronto, contact the experts at Echoing Green. From planning your design to the installation process, our team at Echoing Green is ready to help you install the artificial turf of your dreams. For indoor and outdoor grass installation in Toronto, visit us online or give us a call for more information.