How Landlords Benefit from Artificial Grass Installation
If you're a landlord in Ontario, you know that you have a lot of responsibilities to your property and to your tenants. Finding new tenants and caring for a second home or condo can add a lot of extra work when added on top of your daily responsibilities. For many landlords, artificial grass in Toronto has made these tedious tasks significantly more manageable. At Echoing Green, we supply turf and offer artificial grass installation for residential properties around the Greater Toronto Area, from artificial turf for balconies, lawns, backyards, decks, and more.
If you have a rental property, here are just some ways you can benefit from artificial grass installation.
Attract New Tenants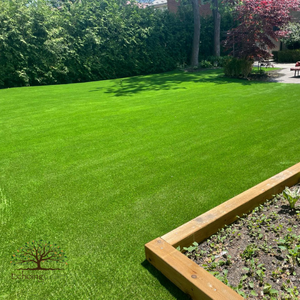 Sprucing up your landscaping boosts curb appeal and attracts more tenants and higher-paying tenants if you're in between tenants.
Landscaping: artificial grass in Toronto can be installed around gardens, patios, concrete, swimming pools, decks and balconies for a vibrant and clean finish to your outdoor space. Artificial turf for balconies and backyards increases the functionality of your property by eliminating allergens and irritants like pollens, insects, and chemicals.
Sound Proofing: If you're renting a condo, you'll soon learn that noise between walls and floors from one unit to the next can become quite frustrating and deterring to potential tenants. Artificial grass installation on the floors and walls or even an artificial turf balcony can reduce sound transfer between units, hushing loud sounds.
Pet & Kid Friendly: The best artificial grass in Toronto, like our grasses at Echoing Green, is safe for kids and pets. If you're looking to find a family as your next tenant, creating a space geared towards kids and pets is a great idea. At Echoing Green, all of our artificial grasses can be installed with our EchoPlay underpadding that makes outdoor play safer by preventing injuries from slips and falls. Our grasses are all non-toxic and easy to disinfect with our AquaKlor turf disinfectant that you can order seamlessly from our online artificial grass store. For even more kid-friendly fun, you can customize the colours and shapes of your kid turf around playgrounds and playrooms for a truly kid-centric experience.
Lawn Care & Upkeep
In Ontario and most regions of Canada, the upkeep of a rental property for things like lawn maintenance is up to the landlord. You can hire a service or do it yourself, but the process can be time-consuming, tedious, or expensive. When you install artificial grass in Toronto, you won't have to worry about mowing, weed removal, fertilizing, or watering because your turf simply won't grow. Leaving a beautiful pristine lawn all year long.
Longevity
With premium products and expert workmanship, artificial grass can last decades without declining in appearance or performance. So, when you choose artificial grass installation or landscaping around your rental property, you won't have to worry about replacing it for many years. The durable build high, strength materials prevent wear and tear even with heavy use so that after tenants move out, you'll be able to keep the same turf in good shape for the next without spending on refreshing your lawn with new turf or maintenance.
Artificial Grass Installation from Echoing Green
Echoing Green is a premium supplier of artificial grass in Toronto with a range of grasses, including pet turf, backyard turf, artificial turf for balconies and more. For the best artificial grass installation in Toronto, our team of experts can help.
Contact us today to learn more about your European grasses and installation services in the Toronto area.