How is Artificial Turf for Dogs Safer Than Grass
Our four-legged family members deserve the same level of comfort we do. Not only inside our homes, but outside too. Natural grass isn't always the best option for them or for pet owners either. You can make your life easier and your dog's life better with artificial grass in Toronto, especially with the heavy winters that we face in Southern Ontario. Echoing Green offers luxury European artificial grass for dogs that provides fuller and natural-looking landscaping. With the low demand for maintenance, artificial grass is an excellent addition to your home to enjoy greenery all year round. Whether you are looking for a putting green or artificial grass for dogs, the professionals at Echoing Green will assist in installing and maintaining it.
Learn about the safety benefits of artificial grass for your dog.
Easier on Their Paws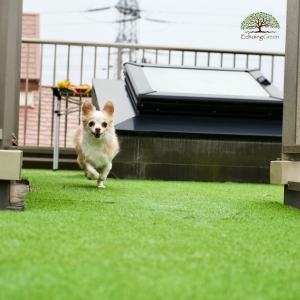 On days of blazing sun, surfaces can be uncomfortable for dogs to walk on with their bare paws. This issue can lead to dogs urinating and leaving organic waste indoors, leaving us with a disgusting mess. With artificial grass for dogs, you can insert a cooling infill that helps create a more comfortable environment for your dogs to relieve themselves. Dogs will not notice the difference between artificial and natural grass, as they feel the exact same to them. Let them roam free in their comfortable little backyard getaway.
Free of Chemicals and Allergens
Maintaining natural grass can take chemicals and pesticides to keep it plump and green. This can be a health risk because dogs' main hobby is sniffing around for anything, unaware of what is harmful and what is not. Artificial grass in Toronto gets rid of the risk of chemical inhalation. It's always green, so you don't have to worry about yellowing or dying. It also eliminates fertilizers, as artificial grass doesn't allow weeds to grow. Create a safe and comfortable environment for your dog to spend time outdoors.
Insect and Tick Free
Ticks and fleas are parasites that can be extremely harmful to dogs. They are more susceptible to tick diseases, and detecting bites under their hair or fur is more complicated. They don't just cause itchiness but can escalate to the development of tapeworms and other irritations. Ticks, fleas, and mosquitoes are the most common pests in backyards, living in the natural grass. By replacing it with artificial grass, you can avoid an expensive trip to the vet. It's a common fear for pet owners, as many horror stories about it exist. Save yourself from the stress and worry of ticks with Echoing Green.
Doggy Play Area With Echoing Green
Create a backyard oasis for your furry friends with Echoing Green. You can focus more on enjoying time with them by alleviating the stress and worry for your dog's well-being. Start with Echoing Green today to plan your backyard to make it safe and comfortable for everyone. With our team, we will help plan out your backyard to make the most of it. We offer our services in Toronto and the GTA. Contact us today for luxurious artificial grass installation for your property.