How Durable Artificial Turf for Gyms Save You Money
While turf for gyms is not new, it's an innovative and beneficial flooring that business owners have used to enhance their commercial properties. Artificial grass for gyms is an increasingly popular choice for designated training areas, free-weight zones, and interval training classes or HIIT workouts. Beyond their aesthetic appeal and additional functionality, artificial grass in Toronto also enables cost savings and offers a positive return on investment.
Here are some ways the durability of artificial grass in Toronto saves money.
Protect Your Weights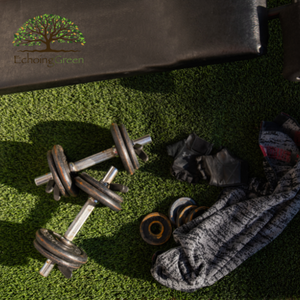 One of the most expensive investments gym startups put their money towards is the equipment: weights, benches, and machines. Unfortunately, patrons will often drop weights out of their hands from high off the ground with heavy sets. Not only does this damage the floor beneath it, chipping away at rubber flooring, hardwood, or laminate, it can damage the weights too. While cast iron and stainless steel are durable, they're often coated in rubber, which begins to chip, peel, and scratch, looking less clean and new. Chipped rubber-coated weights also have the burden of being more difficult to disinfect or clean.
When artificial grass in Toronto is installed around free weight or private workout rooms, it adds padding where weights are being put down, so when they're inevitably dropped, they won't get damaged as much because of the shock absorption of the Echoing Green, EchoPlay padding to better preserve your equipment.
Reduce Replacements
Every day, your gym floor goes through a lot. The shoes, the equipment, and the workouts combined take their toll on it. Whatever flooring you use in a gym should be able to withstand damage from the day-to-day gym activities, including running, jumping, dropping weights, and bouncing medicine balls – you name it. If not equipped, the floor will need replacement frequently. Synthetic turf for gyms from Echoing Green is engineered for durability. A strong polyurethane backing holds the synthetic fibres neatly and closely, and skillful installation from the Echoing Green secures the artificial turf effectively, so it lasts years. By extending the lifespan of your floor, artificial grass in Toronto saves gym owners the cost of repairs or replacements of traditional flooring materials.
Save Time & Resources Cleaning
Hygiene and cleaning are one of the most important but time-consuming tasks for gym employees. As rubber floors wear from use, cleaning in divots becomes increasingly tricky, costing business owners more money in the long run. Artificial turf for gyms is easy to clean inside or outside. When you install artificial grass for Toronto, you can disinfect the surface quickly with our easy-to-use turf sanitization solutions AquaKlor and a simple rinse. The antimicrobial technology built into the infill also helps to keep bacteria and other contaminants away from your workout zone.
Turf Maintenance
As outdoor spaces for gyms become more popular, for HIIT or exercise classes, gym owners look to natural grass for landscaping and comfort outdoors. In its best condition, natural turf can be lush, but it often means insects and allergens in the summertime, which can dampen the workout experience. To keep these pests out of your space when you have natural grass, you have to spend on lawn treatments, fertilizers, and pesticides which end up racking up a significant bill. Artificial turf for gyms, on the other hand, is insect, allergen, and even weed-free, saving you the costs of maintenance all year long.
Synthetic Turf for Gyms Echoing Green
Ready to put high-quality European synthetic turf in your gym? Contact Echoing Green to find out which of our luxury grasses are best for your needs.