How Does Turf for Gyms Minimize Injuries
Between the heavy equipment and high-impact activities, injuries at the gym are always a risk. So, most gyms are focused on the safety of their patrons from the building design, layout, and rules. Some common flooring materials don't provide sufficient protection against injury in the case of an accident. On the other hand, gym turf flooring made with artificial grass in Toronto is equipped with many features that mitigate the opportunity for injuries and reduce impact.
Here's why turf for gyms is the perfect choice for your facility.
Slippery Surfaces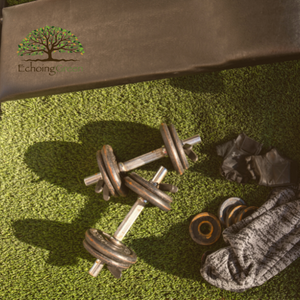 Water bottles, sweat, and cleaning sprays are all at risk of spilling at the gym. On smooth surfaces like hardwood or rubber flooring, a spill is a fall hazard. With bulky equipment, free weights, crowds, slipping on a wet surface or puddle can lead to severe injury. Artificial turf for gyms directs water away from the surface by deterring the opportunity for slippery surfaces.
Shock Absorbency
Injuries at the gym are often the result of a fall, collision, or slip. Gym turf flooring from Echoing Green enables shock absorption. Artificial grass installation from Echoing Green includes high-performance underpadding that introduces shock absorption that softens the blow of falls. Even with many years of use, synthetic gym turf flooring will not decline in performance, maintaining its shock-absorbing properties and fall protection.
Joint & Muscle Pain
Skipping, jumping, running, and other high-intensity impact training (HIIT) like Crossfit or burpees puts a lot of stress on the knees, hips, and ankles. The more you jump while you train with the wrong shoes, form, or flooring, the worse the wear on your muscles and joints. With artificial grass in Toronto for gym turf flooring, the impact of an intense workout routine is reduced, leaving your body feeling less worn out and more healthy.
More Benefits of Artificial Grass for Gyms
Synthetic turf for gyms is excellent for your clients, protecting their health and workout experience, but there are many other features from which you, your employees, and your clients can benefit.
Clean-Up & Sanitization: Artificial grass cleanup is easy and fast. The non-organic material is installed with advanced silica infill that deters bacteria, mold and mildew. Easy to use disinfectants add an additional layer of protection freeing your gym turf from viruses and bacteria. When it comes to dust, simply wiping turf on occasion can rid the surface of dirt, saving your team time and making your customers more comfortable.
Custom Gym Turf Flooring: Not only is artificial grass installation in and around your gym a practical choice for gym-goers, but artificial grass in Toronto is also customizable. You can choose from custom colours and patterns to match your brand or add your logo to your turf for unique marketing and branding purposes.
Artificial Grass in Toronto from Echoing Green
Echoing Green is a leading supplier of artificial grass in Toronto and Canada. As the sole supplier of exclusive European turf in Canada, we are the go-to artificial grass installation team. For the best artificial grass in Toronto and high-quality installation services that lasts many years, trust the Echoing Green team.