How Does Mulch Compare to Artificial Grass for Playgrounds?
When it comes to installing a play area for your kids, it's not possible to be too meticulous in your decision-making. While many flooring options are available, a common choice has been mulch or wood chips. But, with more resources available to research the best option, parents and caregivers are increasingly turning to artificial grass in Toronto. If you're in the process of evaluating surfacing options, read on to see how mulch compares to artificial grass for playgrounds.
Injuries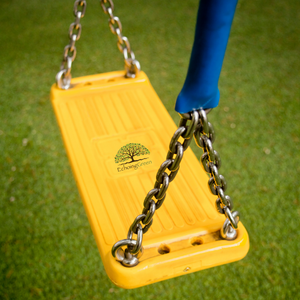 It's hard to control how rough kids play with each other or even on their own. At a young age, they don't know their own strength or vulnerabilities, so when a surface isn't properly cushioned, it can lead to playground injuries ranging from minor cuts to visits to the emergency room. Mulch and woodchips are usually sharp and pointy, making slips and fall more painful. But artificial grass for playgrounds offers two defences against injuries. The highly permeable artificial grass in Toronto makes it so that water doesn't not pool or collect, minimizing the opportunity for slippery surfaces. And the EchoPlay under padding enhances shock-absorption, minimizing the severity of falls by softening the blow.
Fire Risk
In some cases, rubber or even wood chips for backyards or other kid-centric areas can pose a fire hazard. While most people know that wood is flammable and easily burns, rubber mulch is often manufactured with petroleum -- a material that is likely to burn or flame when exposed to fire from a barbeque, firework, cigarette butt, candle, or another heat source. On the other hand, artificial grass in Toronto is equipped with fire-resistant synthetic fibres that won't easily melt, burn, or ignite when brought in contact with a heat source.
Displacement
Mulch is a loose-fill flooring option. In hundreds of small pieces, both organic and rubber are easily kicked around and moved during playtime. This means that kids playing can quickly displace the mulch and lose product over time. Less mulch means less protection and more exposure to the ground beneath the surface. When installed correctly by professionals like the team at Echoing Green, artificial grass for playgrounds is secure and could stay in place for years. Even with daily use, properly installed artificial grass in Toronto lasts decades in outdoor applications.
Hidden Hazards
Because of the messy nature of mulch or wood chips, it can easily hide hazards in piles as it gets moved around during play. This means that glass or other sharp, pointy, and dangerous items become missed in the texture and piles of the mulch. When you opt for artificial grass in Toronto, parents and caregivers can be confident that the playground surfacing is safe and hazard-free. It is easy for you to walk the area and identify misplaced objects that contrast against the flat green surface.
Damp Weather
In the wet weather: rain, snow, or sleet, to which Southern Ontario is no stranger, wood chips absorb the moisture becoming heavier. As a result of the added weight, wood chips do not spread out as easily, impeding their ability to provide fall protection or shock absorption. Artificial grass in Toronto is designed for Canadian weather fluctuations and exposure. It withstands external weather conditions without succumbing to them.
Contact Echoing Green today to learn more about artificial grass for playgrounds or view or kid-friendly turf online.