How Does Infill Impact Backyard Putting Green Installation
If you're a golf enthusiast looking for a convenient way to play and improve your game, an artificial grass backyard putting green is a great option. Customizable to your yard and preferred level of difficulty, a synthetic backyard putting green brings the breaks and bends of a professionally designed PGA green right to your home. With the best putting green turf and proper artificial grass installation, your synthetic golf green will help you elevate your game ahead of your next tee time.
While the quality of your putting green turf is key to the functionality of putting green, the installation is also a significant factor - specifically the infill. At Echoing Green, we use high-quality vinyl-coated infill for all artificial grass installation. Here's how it makes a difference.
Ball Roll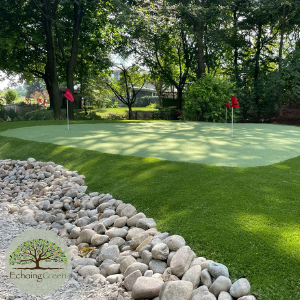 To replicate the play of a putting green you would find at a golf course, the fibres of your putting green turf need to be short, densely packed, and upright. If the fibres of a backyard putting green were to flatten, the ball flow would be interrupted, altering the putting experience. In addition to finding the best putting green turf, a well-distributed infill is used to keep synthetic grass fibres straight and upright so that when you strike your golf ball, it rolls smoothly across the surface.
Ball Speed
Since the speed of a green can fluctuate depending on the weather conditions, rain that doesn't drain will eventually inhibit your play. The main property in putting green turf that enables drainage is the design of its backing. At Echoing Green, our backyard putting greens are engineered with a permeable base that allows easy water flow. This capability is further enhanced by our vinyl-coated infill. The round beads of silica sand distributed through the turf during artificial grass installation helps water move seamlessly through the turf into the ground without becoming trapped or backing up.
Stability
If not effectively secured during artificial grass installation, a backyard putting green will shift, drift, or lift during play or even due to changing ground temperatures and wind. To completely mitigate the movement of putting green turf and preserve the performance of your artificial grass putting green, our installation team uses infill to weigh down the turf at its base to maximize stability. The heaviness of the infill paired with fasteners stops artificial grass from shifting out of place, preventing bubbles or wrinkles from forming beneath the putting green,
Mold & Mildew
Where there is exposure to organic material and water, there is an opportunity for mold and mildew to infest unless your putting green is appropriately equipped. Since our backyard putting greens are built with synthetic turf rather than natural grass, they're already free of organic materials that could attract mold spores. But to further deter infestation from nearby leaves, twigs, or organic debris, our infill fortifies putting green turf against mold and bacteria, which would otherwise create a slimy surface that would lead to inaccurate putting.
When you choose Echoing Green, you can be confident that everything from artificial grass in Toronto to design and installation will maximize the play and longevity of your backyard putting green. Hit the greens sooner rather than later.
Start designing your custom backyard putting green with Echoing Green today.