How Does Artificial Grass for Backyards Protect Your Garden
Whether you're curating a beautiful garden filled with aromatic and enticing plants, or using your extra yard space to grow your own food, gardening amongst Canadians has become increasingly popular over the past few years. Considering the time, effort, and resources that go into maintaining your garden, it's important to protect your work, and one way to do that is with artificial grass in Toronto. The luxury alternative to natural grass requires minimal care, simple turf cleaning, and artificial grass for backyards and balcony optimize your outdoor experience,
Read on to learn how artificial grass for backyards and front lawns protects your garden.
Win the Battle Against Weeds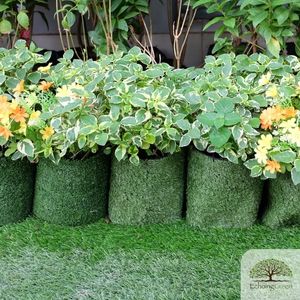 Dandelions, ragweed, crabgrass, and other pesky weeds can quickly threaten the success and beauty of our gardens. As weeds enter natural grass lawns and gardens, they compete with other plants for resources. Fast-developing root systems and quick replication capture water and nutrients from the soil, leaving little left over for plants and gardens you put effort into cultivating. Unfortunately, keeping weeds out of your lawn and garden can be time-consuming and challenging. But, when you install artificial grass for balconies and lawns around your property, the risk of weeds spreading and infesting your landscaping is significantly reduced. When installed with a heavy-duty weed barrier, weeds have a more challenging time breaching
your garden or your lawn.
Keep Pests Out of Your Garden
Critters like earwigs, caterpillars, and beetles are one of the most persistent and frustrating threats to home gardens. Using natural environments like the base of lawns and wet grass as a habitat for nesting and reproduction, these insects often target nearby gardens as food sources that can quickly contaminate and damage your flowers, vegetables, trees, and fruits. Unlike natural alternatives, artificial grass in Toronto wards off insects. The synthetic environment and lack of organic materials make lawns uninhabitable to insects, like ants, grubs, and other soil-dwelling insects, which can often be relentless troublemakers in traditional gardens. With fewer pests, your gardens and the fruits of your labor are more likely to thrive.
Curb the Effects of Soil Erosion
Natural lawns can have a hard time holding the soil together, especially on slopes or in places where people often tread. This is where artificial grass comes in handy. Its sturdy fibers act like a strong grip, keeping the soil from eroding even during heavy rains. So, whether you have a sloping yard or areas prone to foot traffic, artificial grass is a reliable erosion control solution, ensuring your garden's foundation stays intact. Specially-designed artificial grass for backyards is engineered to withstand various levels of traffic without compromising the durability or performance of your landscaping while also preventing soil erosion in your garden.
Benefits of Artificial Grass in Toronto
Artificial grass installation revolutionizes the lawn care and landscaping experience, making it easier for homeowners throughout the city to enjoy their outdoor space. With Echoing Green and our complete selection of turf-related services, from a beautiful product engineered with advanced performance capabilities and high-quality installation services to reliable maintenance and turf cleaning services. Talk to our team today to learn more about installing artificial grass in Toronto.