How Artificial Grass Makes Hygiene for Dog Runs Easy
There are a myriad of reasons why business owners choose artificial turf for dog runs, ranging from vibrancy, durability, to efficient installation. However, one of the lesser-known benefits of artificial grass is that it's easy to keep clean. While we adore our loyal canines, they tend to be messy, so it's essential that dog runs and pet-centric facilities are kept hygienic. However, with artificial grass in Toronto from Echoing Green, there's no need to worry. Keeping your dog runs hygienic and sanitized is effortless and worry-free.
Read on to learn more about how artificial grass for dog runs from Echoing Green makes sanitization easy.
Infill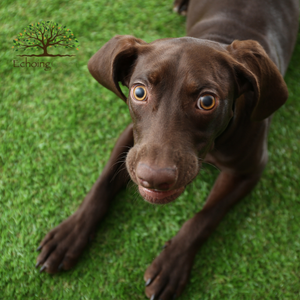 The exposure of organic material and water that comes with natural grass allows mold and mildew to infiltrate your dog run. However, with artificial grass in Toronto, the threat of these contaminants is significantly reduced. Our synthetic grass is installed with a bacteria-resistant infill to prevent any odour-inducing bacteria from gathering on your dog run or mold from infiltrating.
At Echoing Green, we use antibacterial vinyl-coated silica sand infill during artificial grass installation which protects synthetic turf and maintains the health of your dog run by deterring bacteria, mold, and mildew from infiltrating your turf in a few different ways. For one, its antibacterial nature and efficient drainage negates the conditions conducive to mold, preventing mold spores from settling on your turf in the first place. Additionally, it deters mold and mildew outbreaks from nearby lingering organic materials, like leaves, twigs, or other debris typical outdoor debris.
Drainage
Dogs can't help but dig or kick up dirt when they run, even in the rain, so natural grass in dog runs often comes with muddy consequences. However, our pet turf, Echo60, is specifically designed to meet the highest standards of water drainage. Without the presence of topsoil, mud won't form at the surface, even after washes, spills, or rainfall. The permeable backing and strategic rounded infill design supports and enhances drainage; anything on your artificial grass in Toronto is quickly and easily washed away.
Sanitization
With natural grass, dogs often use it as a bathroom, resulting in odours, bacteria, and stains. However, artificial pet turf from Echoing Green will ensure that your dog run will stay odour and stain-free. AquaKlor, our pet-friendly disinfectant, will keep harmful organic matter away with ease. AquaKlor is easily applied to the surface of your artificial grass to quickly and completely eliminate contaminants.
Choosing Echoing Green
Dogs want a wide-open and safe space to run, play, and sniff to their hearts' content. Echoing Green's synthetic grass is non-toxic, sanitary, and durable, ensuring that your dog is safe to do whatever they please. However, artificial grass doesn't just benefit the dogs, but also you; it's sanitary and easy to keep clean because of supreme drainage and high-quality, antibacterial infill. Low maintenance and efficient hygienic practices make Echoing Green's artificial turf an excellent choice for dog runs.
At Echoing Green, our installation process is effortless and efficient. Our trusted experts will work with you every step to guarantee your satisfaction.