How Artificial Grass for Backyards Stands Up to Toronto Weather
When you consider whether you should install artificial grass for your backyard and live in Toronto or the surrounding area, it's only natural to think about how residential turf will stand up to various weather conditions. The performance of artificial grass depends largely on the manufacturer, how it's engineered, and the installation process. At Echoing Green, our selection of premium residential turf is uniquely designed to promote durability under various conditions. Unlike any other available, our turf is manufactured against strict European standards to deliver.
Learn how artificial grass from Echoing Green performs in Toronto weather.
Sun and High Heat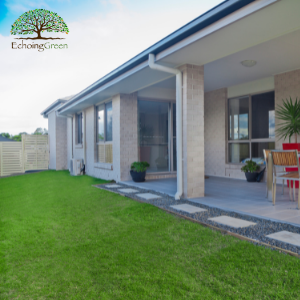 While Toronto certainly is not hot all year long, the summer months more than make up for it. Many days bring high UV Index ratings sometimes even exceeding a 7 (which is pretty high). Under extended UV exposure, unequipped synthetic turf in Toronto may falter, either causing colors to fade, blades of grass to melt or even overheating to the point where it burns on contact. But, at Echoing Green, our artificial turf is built differently. Inherent UV-protecting properties reflect heat away from the surface of the turf even when exposed to direct sunlight protecting colours from disintegrating and stopping the grass from being too hot to touch.
Extreme Winds
Strong gusty wind is not uncommon in Toronto. High-speed winds are frequently forecasted, leaving some homeowners wondering whether artificial grass for backyards will stay down. This mostly depends on the quality of your artificial grass installation. Sometimes DIY grass installation will not create a secure finish that fastens the seams of the synthetic turf to the ground. However, when you opt for professional residential turf installation, you can be more sure that the proper tools and equipment are being used, like staples, tape, glue, and stakes to prevent the ends from lifting in fast or strong winds. You can get all your installation tools from Echoing Green when you order your backyard turf or request professional installation from our team of experts.
Rain & Thunderstorms
Between fall and winter, rain and thunderstorms become more prevalent in the Greater Toronto Area. With heavy rainfalls, there is a concern about what problems will cause for artificial grass. A good installation will stop artificial turf from lifting, while DIY projects may result in bubbling or raised edges. But when you choose high-quality artificial grass from Echoing Green, you can be confident that water will drain effectively. Our turf is engineered with a permeable backing that facilitates drainage preventing water from backing up and flooding artificial lawns.
Ice & Snowfall
Ice and snow can rest on top of artificial grass in Toronto for months before melting away. The fear is that the weight of ice will degrade the surface of the turf and flood the lawn. Because turf from Echoing Green is equipped with draining technologies, snow, and ice will drain as it melts. Once the snow is gone for the season, some turf may seem flat after months of being crushed by snow, but the durable material can be revived with a simple plastic rake and a top of infill in the spring to look just like new.
Order your artificial grass by contacting us today or get an instant quote online!