How Artificial Grass Can Keep Your Dogs Entertained Indoors
The winter can be lonely, being trapped inside the cold weather and seemingly endless snowfall. While you may not be a massive fan of being inside throughout chilly winter days, neither is your dog. Inactivity and boredom may creep on your loyal friend, potentially leading to destruction, lethargy, or, on the other hand, excess energy and anxiety. This winter, the difference maker for you and your furry friend could be artificial grass for dogs. At Echoing Green, we stock high-quality artificial grass in Toronto that pets and pet lovers love.
Here's a quick guide on keeping your dog entertained indoors with artificial grass in Toronto from Echoing Green.
Benefits of Indoor Pet Turf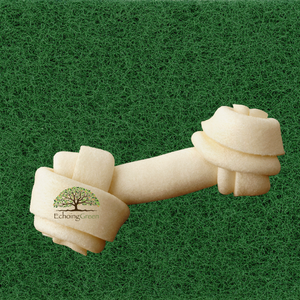 Artificial grass for dogs from Echoing Green comes with many benefits. Not only is it low-maintenance, but it's also completely customizable — it can be installed anywhere there's a flat and smooth surface. If you want indoor pet turf near the window of your home, in the corner, or in your living room, it's entirely up to you. More so, you're able to choose the colour, shape, and height of the grass fibres. If you'd like your dog to have a plush surface to nap on, consider getting artificial turf with long synthetic fibres. If keeping indoor pet turf clean is your concern, there's no need to worry. Artificial grass in Toronto from Echoing Green is bacteria and odour-deterring. If anything spills, it can be easily wiped away for fresh and clean artificial grass surfaces.
Teach Your Dog a Trick
Teaching your dog to shake a paw or rollover is an excellent way to keep them stimulated and amused. A great trick to teach your dog is to tidy up, especially their toys. If your dog has a lot of toys, teach them to keep them gathered together on indoor pet turf. This way, they always know where to go whenever you tell them to tidy up.
Obedience Training
Training your dog, no matter how old they are, is a great way to keep them intrigued and entertained throughout the day. Repeat commands, use positive reinforcement, and introduce new commands to keep them interested and stimulated. Consider using indoor turf as a designated section for obedience training, so they get used to the environment.
Rotate Toys
Like artificial grass for dogs in your home being the designated spot for tricks, it can be the same for toys. Much like us, dogs enjoy new things, especially new toys. Consider rotating your dog's toys on the artificial turf to amuse them.
Play Games
Other than teaching new tricks, maintaining obedience, and rotating toys, playing games with your dog will keep them entertained and quickly tire them out. Play fetch, tug of war, or stuff a toy with treats, all on artificial turf for dogs. If you choose to stuff a dog toy with treats or peanut butter, there's no better place to do it than on indoor pet turf. The easy-to-clean, soft surface of Echoing Green's synthetic grass is perfect for your dog to make any mess they like.
Shop Pet Turf With Echoing Green
If you're interested in indoor pet turf and keeping your dog amused, visit Echoing Green to learn more.