Holiday Gifts for Golfer Who Plays on Artificial Grass in Toronto
Does someone special to you have an outdoor or indoor putting green at home built with artificial turf in Toronto?
Are you struggling to find a thoughtful and valuable gift for the golf lover in your life during the holidays? The holidays are fast approaching, and as we get older, it becomes increasingly difficult to think up thoughtful gifts that our friends and family don't yet have. Artificial turf in Toronto opens up many possibilities for a unique and meaningful gift.
If they don't have one yet, you can order a custom built artificial grass indoor putting green. While you can't exactly wrap it, any golf lover would be ecstatic to learn that they can be practicing their putting in the comfort of their own home. When you choose Echoing Green, an exclusive supplier of European putting green turf in Canada, your lovely gift will last years.
Here are some other golf-related gifts you can give to someone with an artificial grass indoor putting green.
Putting Green Accessories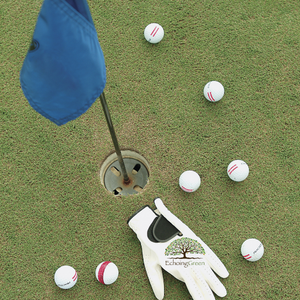 An outdoor or indoor putting green is incomplete without a flag for the holes. Playing at the course or playing on artificial turf in Toronto, any golfer will tell you they love the feeling of lifting that flag and sinking the hole. If you're building a custom artificial grass putting green from Echoing Green, we will provide you with all the tools and accessories to transform your home or backyard into a golf green you can find on the PGA schedule. A good gift idea is to order custom putting green flags or golf balls that can be interchanged with the existing one because what's a custom golf green without custom accessories.
Custom Bar Area
In addition to serving as a practice green, an indoor putting green may also function as a home entertainment venue for friends and family. And what better addition than a bar, where everyone can enjoy the revelry of good conversation, golf, and refreshments.
Try adding personalized synthetic turf carpet for the bar cart, or gift a custom artificial grass sign to hang on it. At Echoing Green, we stock lush artificial grass that comes in a variety of colours. Our custom artificial turf in Toronto can also be customized with logos and emblems. A mini-fridge, bar accessories, and snacks all can be stored here for refreshments post-practice too.
Novelty Accessories
An indoor putting green is undoubtedly the centrepiece of any home where you might find one. But why not adorn the area with more memorabilia to the sport they love. A single wall covered with putting green turf is a great place to hang scorecards, signed novelty items from golf favourites, and collector's items.
Artificial Grass for Wedge Shots
Putting is most definitely one of the most challenging skills of any golfer, but there are a lot of different strokes that make a good golf game. The wedge is often overlooked but is, in fact, an essential stroke for getting golfers out of tricky situations. After all, there are 4 types of clubs dedicated to it. Expand at home golfing capabilities with synthetic turf and a pitching net, where golfers can comfortably work on their wedge inside or out.
Contact Echoing Green to learn more about artificial grass in Toronto for putting greens and other commercial and residential applications.