Gym Equipment You Can Use on Synthetic Grass
As the nature of gyms changes, so does the design aesthetics and flooring. More and more, artificial grass is being used for gym flooring. Turf for gyms from Echoing Green has a multitude of benefits, from reduced maintenance, and customizable designs to additional functionality. Echoing Green's high-performance synthetic grass is a durable and popular choice among gyms and ideal for all workouts, like CrossFit, HIIT, yoga, and weightlifting.
Here's some of the gym equipment that can be used on synthetic grass.
Battle Ropes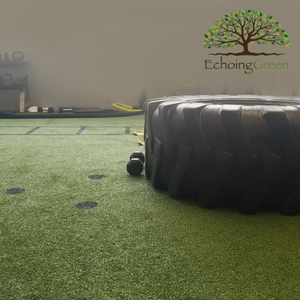 Perhaps the most satisfying part of a workout is the battle ropes. Slamming them down on the ground and getting out all of your energy is an excellent workout, but sometimes, it may damage gym floors. However, with synthetic grass, battle ropes will no longer cause any damage. Echoing Green's turf for gyms, Playlite is highly durable and will absorb any shock from the ropes being slammed into the ground at the end of the workout.
Mats
Whether you're doing a warm-up, a cool-down, or a yoga routine, sometimes it can be hard on the knees, back, and wrists, even with a yoga mat — after all, a yoga mat can only do so much on a hard gym floor. With synthetic turf for gyms, you won't have any more joint pain or aches while on your mat. With a thick underpad, a ¾ inch pile height, and soft, natural-feeling grass, your warm-up or cool-down will be comfortable and relaxing.
Sneakers
Despite being indoor gym shoes, sneakers may bring in sweat and dirt, causing many gym floors to become dirty and need endless cleaning. However, with synthetic turf, sneakers can be worn without any worry. Cleaning artificial turf from Echoing Green is easy and fast. A simple wipe with AquaKlor, our non-toxic turf cleaner, is all you need to ensure your gym turf stays clean, even with sneakers.
Tires
Flipping a tire has never been easier with artificial turf. With premium shock absorption and strength, flipping tires will have minimal wear and tear and less noise. If you're interested in having a powerful tire in your gym, but want it without the noise, check out Echoing Green's premium artificial grass for gyms.
Sleds
Pushing and pulling sleds in your gym has never been easier than with artificial grass. Sleds are an integral part of any HIIT workout and can be loaded with weight. As a result, pushing and pulling sleds may become challenging on the wrong type of floor. With artificial grass, weighted sleds have the perfect resistance and will slide along with ease — depending on how much weight has been piled on.
Weights
Weightlifting, powerlifting, and CrossFit often involve heavy weights being dropped throughout
workouts. Unfortunately, regular flooring won't last long with that process repeated daily. With artificial turf, however, dropping weights will no longer be a cause for concern. In addition, the shock absorption of the turf will significantly reduce the banging noise of the weights being dropped.
High-Quality Synthetic Turf for Gyms
To ensure that your gym stays in top shape and your clients are able to use all types of equipment with minimal wear and tear, visit Echoing Green.