Guide to Finding the Right Artificial Grass for Your Business
Whether you're starting a new artificial grass landscaping business or expanding the service offering of our existing company, there are many artificial grass wholesalers from which you can source products. However, this should be a calculated decision. One of the most ways to make an impact in the industry is by using a truly exceptional product.
Before buying wholesale artificial turf in Canada, here are the qualities you should seek out from your supplier and the product.
Durability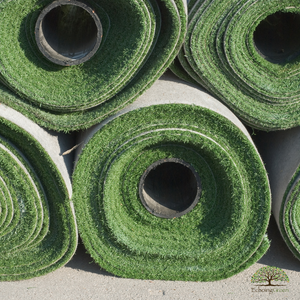 While there are many benefits of artificial turf in Toronto, a leading reason commercial and residential property owners switch from natural grass is the longevity promised by artificial grass in Toronto. Landscapers assessing potential artificial grass wholesalers must consider whether the turf is engineered for durability, specifically in Canadian applications.
Since the weather patterns in Toronto and elsewhere in Canada fluctuate depending on the season, outdoor artificial grass installations must be equipped to handle anything from ice and snow to rain and heavy winds. At Echoing Green, our turf is engineered for longevity, featuring polyurethane backings that stand up to frigid temperatures as well as UV protection to deter sun damage.
Easy to Install
Artificial grass installation times are relatively fast. With the right tools and guidance, the process is even easier. At Echoing Green, our artificial grass features an advanced polyurethane backing which is lighter and more flexible than traditional rubber latex backings. As a result, landscapers can easily carry equipment around and shape it to custom applications. Echoing Green offers a professional guidance service to help landscapers get started with artificial grass. You can call our team for installation instructions, tips, and troubleshooting.
Installation Accessories
In addition to wholesale artificial turf in Canada, landscapers can order artificial grass installation accessories online. Our one-stop-shop allows landscapers to easily access all the tools they need in one central location. Since all products are conveniently stocked in our online artificial grass store, landscapers can flexibly order on the go from their laptop or mobile device and have their orders delivered on-site.
Customer Satisfaction
The end goal of any service is happy customers. And your products play a significant role in your customer experience. When deciding on artificial grass wholesalers, why not choose the supplier with turf that customers love. Read supplier reviews before deciding which wholesale artificial turf to purchase for a project. At Echoing Green, we know our customers, residential and commercial, love our product for its durability, low maintenance, and long-term performance.
Full Range of Applications
For optimal performance, different jobs will require unique properties from artificial grass. Low traffic residential lawns will have less fibre density and higher pile heights, while high traffic retail applications would feature more densely packed fibres and lower pile heights. When you purchase wholesale artificial turf, you should be able to choose from a full range of grasses suited to various applications and projects. At Echoing Green, you can mix and match your orders to stock up on a variety that makes sense for you.
Why Choose Echoing Green For Wholesale Artificial Turf Canada
Echoing Green is the sole Canadian supplier of European wholesale artificial turf. Our high-quality, real-like artificial grass is a favourite among customers in Canada who rave that our artificial grass offers the luxurious sensation and appeal of natural grass without any of the tedious maintenance works. We also offer artificial grass installation services to landscapers getting started in the artificial grass market.
Contact us today to request our European turf sample box!