Guide to Artificial Grass Infill
There are multiple rationales behind using infill during artificial grass installation. Arguably the most important reason landscape contractors use infill is to weigh down turf and add ballast or stability. Infill fortifies the base of artificial grass in Canada to enhance durability and increase longevity. However that isn't all that infill has to offer. Depending on the type of infill you choose for artificial grass installation, you can reap a range of benefits.
Here's an easy guide to all your infill options when shopping wholesale artificial grass supplies.
Silica Sand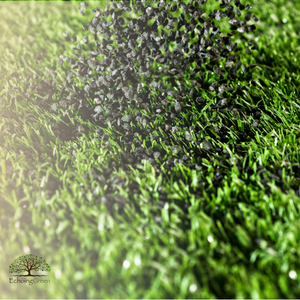 Silica sand is used commonly for artificial applications of all kinds. With low dust production, no heavy metals, and naturally-occuring, silica sand is a favourite infill choice for artificial grass in Canada, as it is safe for pets and kid-centric areas. Its versatility and ability to be used in a range of applications, makes silica sand a great choice for landscapers stocking up on wholesale artificial grass supplies.
Coated Silica Sand
Just like traditional silica sand infill, coated silica sand is used when installing artificial grass in Canada to hold down the backing of the turf while supporting the individual synthetic fibres so they stand tall. Either acrylic or vinyl coated, silica sand infill with 90% purity or more equips artificial grass to fight off bacteria, microbes, and other outdoor contaminants that cause staining or odours. In addition to its antibacterial features, silica sand infill helps cool turf, especially when exposed to sunlight for extended periods, while the rounded edges of coated silica sand enhances drainage and increases shock absorption.
At Echoing Green, we stock high-performance vinyl-coated silica sand infill. Visit our wholesale artificial grass store online to view all of your essential installation supplies.
Crumb Rubber Infill
Crumb rubber infill is made from old recycled tires. The scrap is ground into smaller pieces and sealed. This type of infill is mostly used for sports turf and fields where it gives bounce to runners and athletes, but on occasion it can be found in other applications. For the most part, crumb rubber is free of heavy metals but unlike silica sand infill, it cannot be guaranteed. Alone, crumb rubber infill has the tendency to retain heat and cause odours.
Coated Crumb Rubber
Ambient and cryogenic crumb rubber can be coated with sealants and colourants to enhance their benefits, performance, and aesthetic appeal in various artificial grass installations. Certain coatings will also enable antibacterial effects that prevent bacteria or microbes from festering.
EDPM Infill
EDPM infill or Ethylene Propylene Diene Monomer is a high performance infill that can effectively prevents the effects of ultraviolet light, abrasion from repeat use, withstands weather patterns of various climates. Despite its many benefits and resistance to aging, synthetically produced EDPM infill is often more costly than crumb rubber and has the potential to be toxic. Like crumb rubber infill, EDPM can also retain heat, especially during the summer,
Wholesale Artificial Grass Infill
For the best artificial grass in Canada from installation to performance, shop Echoing Green. We are a wholesale artificial grass supplier with high quality turf and installation accessories that your customers will love. To learn more about our products, visit our online store.