Great Indoor Locations for an Putting Green
Despite its inherent versatility, artificial grass installation in Toronto is often thought of within the limits of backyard lawn replacement and playground turf. But the truth is when you find the best artificial grass in Toronto and an installation team on which you can rely, the options for artificial grass applications and designs are virtually endless.
Go beyond the standard parks, backyards, and commercial spaces, with artificial grass putting green installation from Echoing Green. Whether you're a golf lover or just looking to add a little fun to your space, premium European golf greens are a great choice that last decades.
Want to go beyond backyard artificial grass installation, try these 3 putting green applications.
Putting Greens & Playground Turf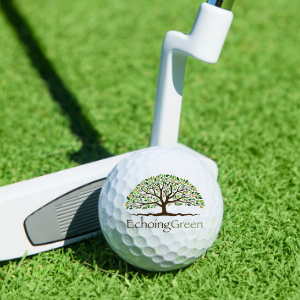 Playgrounds don't have to be just open fields. Whether you're using playground turf at schools, daycares, parks, or homes, you can add functionality with an artificial grass putting green. Interactive games encourage social interaction among kids and enhance motor skills in a fun way. You can make your playground turf putting greens even more exciting by customizing the colours, shapes, and designs at Echoing Green. When you choose artificial grass for kid-centric applications, you can rest assured that your turf is non-toxic and shock-absorbent for safe play.
In-Office Putting Greens
Even for those who love their job, being at work can be a drag. Whether you're staring at the computer screen for too long or stressed about upcoming deadlines, you and your employees deserve to blow off some steam in a way that encourages team-building, boosts morale, and increases employee retention. An indoor putting green built with artificial grass is a great way to go about that. You can upgrade a common room or an office for easy access for your entire team when you're between meetings or projects.
Not only does an office putting green keep employees happy, but it's inviting and memorable for visiting clients too. Bring your classic 'round of golf in-house, and work out details of your deals as you putt.
Artificial Grass for Restaurants & Bars
With the popularity of social media, people love looking for a restaurant or bar that offers dining with a twist. By installing an artificial grass putting green that is custom-designed for your space, you can increase the functionality of your establishment, attracting new customers through Instagram and TikTok shares while also retaining your loyal customers with the memory of a good experience. Artificial grass putting greens can be installed anywhere indoors, on rooftops, decks, or outdoor patios. Your team will love it too: they can play a few rounds during breaks, and they won't have to spend extra time cleaning or caring for the low-maintenance turf.
Why Choose Echoing Green?
Echoing Green specializes in artificial grass installation for a variety of applications from backyards to playground turf in Toronto. But we also are experts at designing custom golf greens using premium putting green turf in Toronto. From slope and topography to hole location and ball roll, we've got it figured out.
If you're interested in installing an artificial grass putting green in Toronto, contact the team today.