Get Rid of Weeds for Good with Artificial Grass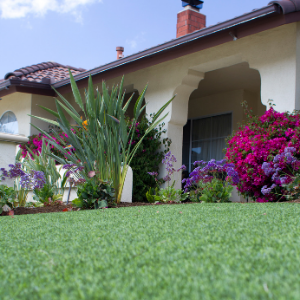 As spring dawns, natural lawns are beginning to be infiltrated by weeds, but yards composed of artificial grass in Toronto will remain green and weed-free all summer long. If there is ever a reason to opt for artificial grass, it's to rid yourself of the burden of weeds, incessant lawn pests that wreak havoc on the lawns you devote time, energy, and money into caring for. Weeds are not just annoying. They have real drawbacks that make them best to avoid altogether. Luckily synthetic turf is a great alternative that allows you to permanently eliminate weeds from your yard without sacrificing your greenery.
Here are 6 reasons you should eliminate weeds from your lawn with synthetic backyard turf.
Costly
Not only does weed control cost your time, but the recurring costs of new tools, chemicals, and weed removal services can add up significantly over time. When you eliminate weeds with artificial grass, your backyard turf will no longer require these expensive, repetitive treatments.
Tedious
One of the most frustrating things about attempting to control weeds is that they just come back, making the process tedious and draining. No matter how much time and effort is spent pulling out weeds or using store-bought lawn treatments, it seems like they always find a way to come back. Even if you manage to eliminate weeds from your lawn one year, they'll likely return the following summer.
At Echoing Green, we offer fast artificial grass installation, so you can spend these warm summer days lounging outside in your yard, not stressing over weeds that you can't control.
Insects
As weeds grow more densely and aggressively through lawns, they are known to bring a wide variety of insects, including mosquitoes, gnats, wasps, bees, and many more. You might find yourself overwatering your lawn because the weeds are using up the water, leaving your grass dry and yellow, but this will only attract more pests.
Garden
Gardens nearby or adjacent to natural lawns are susceptible to weed infestations, impacting the growth of flowers, vegetables, or fruit planted in that garden. Weeds essentially inhibit your plants from generating nutrients necessary for survival by aggressively competing for sunlight and water. They also release chemicals that prevent gardens from flourishing.
Allergies
Some weeds grow flowers, but those flowers contain pollen that can cause hay fever, causing seasonal allergies to flare up. When you're in your own yard, you should be able to move around freely without a sudden, uncontrollable onset of sneezing or red, burning eyes. When you install backyard turf from Echoing Green, you'll be able to enjoy being outdoors in the warm weather without getting sick.
Unsightly
One reason we try so hard to control persistent weeds is that they are an eyesore. When we want our natural grass lawns to look like a beautiful green canvas, they become infected with weeds. Echoing Green installs artificial grass in Toronto, so your front and backyard turf stay green, plush, and uninterrupted by weeds.
Realize the Artificial Grass Difference
Weeds are frustrating; they spread with no respect for your landscaping intention into your garden and take over the grass that you've been spending your time and money caring for, flushing all of that effort down the drain. Artificial turf can end your battle with weeds in your lawn, giving you peace of mind that you will never have to spray or pull a weed out again.