From Dirt to Concrete: Where to Lay Artificial Grass for Backyards
Artificial grass for backyards is becoming increasingly popular in Toronto and other cities nationwide. Homeowners and commercial property owners are leveraging the revolutionary technology of exclusive artificial grass to upgrade their landscaping and interior spaces. One leading quality of artificial grass in Toronto is the vast options of how it can be used and customized to upgrade a space.
Are you thinking about installing artificial grass in your backyard? Read on to explore options for where you should lay it.
Deck, Balcony, or Terrace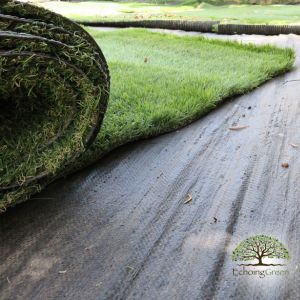 If you have a patio, deck, balcony, or terrace on your property, laying artificial grass can be a great way to add a touch of greenery without the hassle of maintaining a traditional lawn. Artificial grass is an excellent option for these areas because it can withstand heavy foot traffic and won't fade or stain from outdoor furniture or barbecues. You can add furniture, move around easily and comfortably on an artificial grass surface, and do away with less pleasant hardscaping like patio bricks, concrete, or wood.
For those living in urban areas with limited outdoor space, creating a rooftop garden can be a great way to bring nature to your home. Laying artificial grass on your rooftop garden can create a lush, green oasis in the middle of the city.
Artificial Grass Pool Surroundings
Another popular area to lay artificial grass is around the pool. Not only does it provide a safe and slip-resistant surface for wet feet, but it also creates an aesthetically pleasing look. Plus, artificial grass won't shed or make a mess in your pool like natural grass can. When you install artificial grass in Toronto around your swimming pool concrete, you won't have to worry about scalding feet on hot summer days. At Echoing Green, we use high-quality TºCool infill for artificial grass installation, which has the ability to drop the surface temperature of your grass to 10ºC.
Kid or Pet Play Area
A designated play area with artificial grass can be an excellent option if you have children or pets. It provides a soft, cushioned surface for little ones to play on, and it won't wear down or become muddy like natural grass can. Additionally, artificial grass from Echoing Green is easy to clean and maintain, making it perfect for high-traffic and heavy-use areas.
Garden Bed Edging
If you have garden beds in your backyard, laying artificial grass as an edging can create a seamless transition between the lawn and the garden. It's also a great way to add texture and dimension to your backyard design. Artificial grass is an excellent option for garden bed edging because it won't rot or attract pests like natural grass. Using artificial grass near your garden can also prevent your perfectly planted flowers from becoming infested with weeds. Artificial grass is engineered and installed with high-density weed barriers to keep invasive species out of your lawn and landscaping.
Outdoor Artificial Grass from Echoing Green
At Echoing Green, artificial grass offers endless possibilities. When you shop our selection of grasses available, you can upgrade any area of your home or property, creating a beautiful and functional space for you and your family to enjoy.
To get started on your backyard plans, contact our team directly.