Fleas, Ticks & Artificial Grass for Dogs
While we usually talk about synthetic turf for backyards and its benefits to people, our pets are an indispensable part of our family too, so learning how we can better protect them with alternative lawn options is worth exploring. And when it comes to lawns, there's no real surprise why artificial turf in Toronto has been so popular among pet owners. Natural grass can present real problems for pets and pet parents alike, such as muddy pawns, pests, and inaccessibility. One of the biggest challenges artificial grass for dogs solves is the infestation of fleas and ticks that threaten the health and comfort of our beloved pets.
See how artificial turf in Toronto can protect your dogs from ticks and fleas.
Ticks & Fleas and Your Pet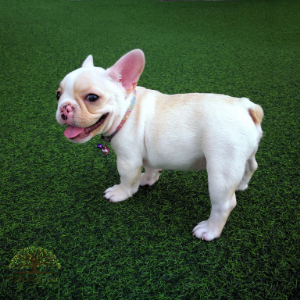 Some people think of fleas as nuisances to pets like mosquitoes are to people; however, fleas and ticks are both parasites that severely impact your pet's well-being. Most notably, fleas cause dogs to scratch incessantly, resulting in redness, skin irritation, hair loss, and allergies. More than that, fleas may transmit other parasites like tapeworms to dogs which can be even more dangerous.
Unfortunately, dogs are incredibly vulnerable to tick bites which are difficult to detect. As a result, they are more susceptible to tick-borne diseases, which can range in severity. In some rare cases, ticks can consume enough blood from your pet to lead to anemia. The overall fear of tick bites and tick-borne illness is scary for pet owners. It's best to eliminate any vulnerabilities to ticks whenever possible. Artificial grass installation allows you to replace real grass and the pests that come along with it.
Natural Grass and Ticks
Natural grass can be a breeding ground for ticks and fleas who prefer dark and moist areas. Once these pests take hold in your lawn, they reproduce quickly and are only effectively eliminated with professional chemical lawn treatments or insecticides. Due to their heavy chemical content, insecticides can be more trouble than it's worth for families and pets.
Artificial Turf in Toronto
The best way to safeguard your grass-loving pets from the dangers of ticks and fleas is with high-quality artificial grass for dogs. At Echoing Green, our turf is designed to offer pets the look and feel of a natural lawn without the same risks. Engineered to facilitate efficient drainage, our artificial grass in Toronto drains water from washing, rain, and snow to prevent back, pools, bacteria, and insects.
Pests in Your Artificial Grass?
Artificial grass in Toronto typically won't breed insects or pests because there is no water or organic matter. However, leaves, dirt, waste, and other organic matter combined with fresh rain might slowly attract insects. To ensure artificial grass for dogs is flea and tick-free, you can remove falling leaves, fruit, food or other debris that falls onto your lawn and regularly rinse your artificial turf. When you replace your natural grass with artificial turf, you're already on your way to establishing a safer and healthier space for you and your pets.
At Echoing Green, we provide high-quality premium artificial grass to the Toronto area. Our exclusive European-made turf is unlike any other in the city.
Contact Echoing Green for an estimate today.