Enhance Your Thanksgiving Plans with Artificial Grass for Backyards
By the time Thanksgiving rolls around in Toronto, the skies are still bright for most of the day, and there is typically good, reliable weather. In addition to its sentimental value, Thanksgiving is an important time for people living in Southern Ontario because it's the last long weekend with fair weather. As we move closer to the holiday season, winter starts to take hold, which leaves the Thanksgiving weekend as the final opportunity to maximize your backyard use for the year. With artificial grass for backyards from Echoing Green, you can upgrade your entire backyard ahead of Thanksgiving. Whether you opt for landscaping or a custom backyard golf green, your artificial grass installation from Echoing Green will elevate your Thanksgiving plans and give you many years of enjoyment.
To learn how you can incorporate artificial grass for your backyard into your long weekend plans, read on.
Perfect Your Outdoor Venue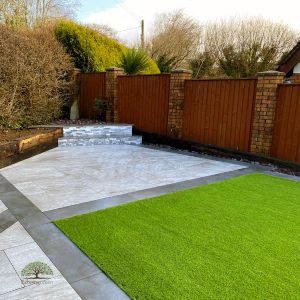 With the countdown to winter underway, it makes sense that many homeowners are looking to maximize their backyard setups for Thanksgiving weekend. Despite cold weather, there are still many challenges with hosting outdoors, including insects, preparation, and wet weather. With artificial grass from Echoing Green, you can overcome these challenges to offer your guests the ideal outdoor experience and the most inviting dinner venue.
Minimize Prep Time
A significant amount of time already goes into preparing your perfect Thanksgiving menu before the big day. If you're planning on hosting outside, you don't want to lose any more time to lawn maintenance. With consistent sunshine and rain, natural grass continues to grow during this time of year. By making the switch to artificial grass for backyards, you won't have to kill hours and spend your energy mowing and raking your lawn. Following expert synthetic turf installation, your backyard grass will be forever the right length.
Host Pets Comfortably
Artificial grass for dogs is a great option if you have a dog-centric family and want to include the pups in your Thanksgiving dinner. Our durable pet turf at Echoing Green is installed securely into the ground or even into the pavement to create a pet-friendly environment, free of fleas, fertilizers, and other hazards that jeopardize the health and contentment of our four-legged family members. With our innovative EchoFresh spray and maintenance services, a quick visit from our team will clear your artificial grass in Toronto of any contaminants and odours, creating a welcoming outdoor environment for your guests.
Minimize Allergy Triggers
With ragweed still causing seasonal allergies for many people from mid-September into October, it's helpful for hosts to take precautionary measures to stop these pesky allergens from affecting guests. Installing artificial grass for backyards helps minimize the onset of allergies that are common this time of year by eliminating sources of pollen in the backyard. Artificial grass installation makes it incredibly challenging for invasive plant species to end up on your property by removing organic material and soil. This allows you and your guests to enjoy a peaceful meal without interruption or distraction.
Enable Outdoor Activity
After a large meal on Thanksgiving, many people find themselves wanting to engage in a low-impact activity to support digestion and to facilitate connection among attendees. For those who love friendly competition, a custom backyard golf green is an effective way to spend more time outdoors with your family and friends, honing your golf skills and staying active without over-exerting your body. At Echoing Green, we build custom golf greens with industry-leading putting green turf. Designing, creating, and installing a backyard golf green with us will give you years of use, allowing you to turn putting competitions into an annual Thanksgiving tradition.
Leverage Artificial Grass for Your Backyard this Thanksgiving
Take your Thanksgiving event to the next level with artificial grass in Toronto. At Echoing Green, we offer European-made synthetic turf designed for performance and durability. Backed by a 10-year warranty, you can count on your artificial turf installation to last you for many Thanksgivings into the future.