Enhance the Summer BBQ with Artificial Grass for Backyards
The sun is out, which means that more and more people will be firing up their grills after work on the weekend to enjoy delicious barbecue meals and spend time with their loved ones. Throughout the Greater Toronto Area, summer barbecues are a staple come June. Along with the perfect meal, homeowners want to create a pleasing and invigorating outdoor experience, and one way to do that is with artificial turf. When planning your landscaping, artificial grass for backyards is the perfect choice for the BBQ host. At Echoing Green, we offer a selection of artificial turf landscaping options that will elevate your backyard.
Read on to dive into the benefits of artificial grass for your backyard.
A Beautiful Aesthetic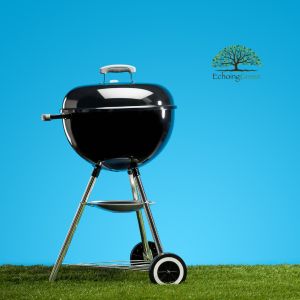 The beloved quality of artificial turf from Echoing Green is its clean and vibrant aesthetic. Where natural grass can get messy with heavy traffic, weeds, and changing weather conditions, luxury artificial grass from Echoing Green is durable. Its pristine form and appeal mimic the feel and look of natural grass, offering years of beauty to homeowners across the Greater Toronto Area with minimal upkeep. Regardless of where you choose for artificial grass installation, be it your yard, deck, or patio, you can count on a clean finish and welcoming enticement.
Low Maintenance Saves Time
When compared to natural grass, artificial turf is a complete time-saver. With sod installations or grass seeds, hours are devoted to tedious and time-consuming tasks like watering, fertilizing, and mowing. Because of its advanced design and high-quality build, artificial grass from Echoing Green requires little to no maintenance on a daily basis. Enhanced with UV Protection, the colour withstands extended exposure to the sun for years of use. The density of the artificial turf in your backyard will depend on the style you choose from our selection at Echoing Green, but you can count on sustained lushness from advanced polyurethane backing that offers a strong tuft lock. The minimal maintenance demand saves homeowners time on lawn care that can be reallocated to engaging with guests, perfecting menus, or setting up for your weekend.
Simplify Clean Up & Prep
When you have guests over, getting prepared is half the battle. From fluffing patio pillows to sweeping, polishing, and mopping, there's a lot to do to get your entertainment area spick and span. Both pre-BBQ and post-event cleanup are streamlined when you install artificial turf in your seating area, around your patio, on your deck, and near your grill. When dust accumulates on the surface of your artificial grass in Toronto, a simple rinse can refresh your lawn. Where spills from grease and other liquids are concerned, a quick wipe should clear messes up in minutes. For a fresh aroma, you can schedule maintenance services from the Echoing Green team, where we offer fast and effective turf cleaning services that leave an enticing fresh-cut grass aroma to fill your yard.
Eliminate Pesky Insects
Mosquitos are often the number one damper on outdoor gatherings; as the sun sets and the persistent biters show up to the party, guests are quick to head inside or make their way home. When you opt for artificial grass in Toronto, you can alleviate the frustration of mosquitos. In most cases, the tiny flies nest in tall grass or standing water where they live and reproduce. But artificial turf is not habitable to these pests, keeping them away from your lawn, so you can enjoy your outdoor space without itching.
Embrace the Artificial Grass Difference with Echoing Green.