Encourage Outdoor Playtime with Artificial Grass in Toronto
Artificial grass is more than just a backyard landscaping option for beautiful year-round lawns. With expert landscaping teams, artificial grass can be used in various applications, from putting greens to workout zones to support outdoor fun for kids, families, and even pets. For luxury artificial turf in Toronto, visit Echoing Green. Our synthetic grass is the perfect way to make your backyard the best place to play and stay active.
Read on to learn how you can make the most of your backyard with artificial grass installation from Echoing Green.
Build a Backyard Putting Green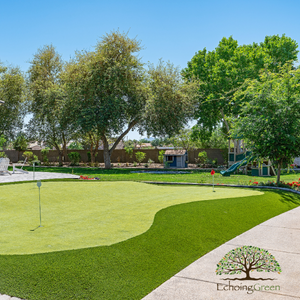 If you're eager to practice your putt in preparation for golf season, there's no better way to do it than with a putting green from Echoing Green. Our putting green turf is entirely customizable to fit the shape of your backyard and the degree of difficulty you'd like. With synthetic putting greens from Echoing Green, you can spend valuable time with family and friends and all practice your short game.
Design an Artificial Grass Play Area
Consider installing artificial grass if your kids want a designated play space, such as a jungle gym or extravagant swing set. Luxury artificial turf in Toronto from Echoing Green is soft and shock absorbent, so if children fall while playing, the risk of injury is minimized. Our selection of backyard and commercial grasses are also equipped with UV-resistant technology, which means that you won't have to worry about the surface being too hot to touch allowing kids to play comfortably and safely even in the hottest temperatures.
Pet Zone with Artificial Grass for Dogs
Since our artificial grass is so comfortable, it's well-loved among pets. Dogs and cats love lounging on our artificial turf in Toronto because of its ability to stay cool on warm summer days. Of course, owners love pet turf just as much. If your furry friend needs to go to the bathroom, artificial grass for dogs is excellent for it. It's quick to clean, antibacterial, and low maintenance. Cleaning up after your pet has never been so easy.
Upgrade Your Patio
If you're tired of having the same patio as everyone else, upgrade it with artificial turf in Toronto from Echoing Green. Artificial grass on your patio will make it the centre of your backyard, which is fantastic for entertaining guests and having parties.
Install Around Your Swimming Pool
Rather than concrete slabs or large tiles around your pool, opt for artificial turf. Sometimes when you leave your pool, you want to be greeted with plush, soft grass instead of hard, slippery tiles. If you want fluffy turf or short and neat turf, it's entirely up to you — our team at Echoing Green will help you customize it, so you're able to achieve your vision.
Outdoor Gym Turf
Working out on hard surfaces isn't always the most comfortable, and it isn't great for the joints. If you want to make your outdoor workout more comfortable, contact Echoing Green for artificial turf for gyms. It's shock absorbent, making it an excellent option for cardio, HIIT training, and weightlifting.
Shop Luxury European Artificial Grass
Artificial turf from Echoing Green is incredibly versatile and is a great way to get outside more this summer. Our selection of artificial grass for landscaping, backyard, balconies, is sanitary, durable, and long-lasting.