Elevate Your Toronto Condo Balcony with Synthetic Grass
If you're living in a condo, like many other Torontonians, you can create an artificial grass balcony by installing custom artificial turf right on top of the existing concrete. The finished balcony grass installation creates an upgraded patio area that is both beautiful and comfortable. It's the ideal way to elevate outdoor aesthetics, regardless of the balcony's actual size.
When shopping for synthetic grass for a balcony, it's best to work with a professional team, both for the product options and the installation quality. A professional touch is the best way to ensure good design sense, appropriate installation on the concrete, and long-term performance for years to come.
Artificial grass for balconies, terraces, and patios has become common among condo owners and homeowners alike. Even in such a limited physical space, it's possible to make things look visually appealing and inviting – just like the natural outdoors but without the upkeep.
Maintenance and Upkeep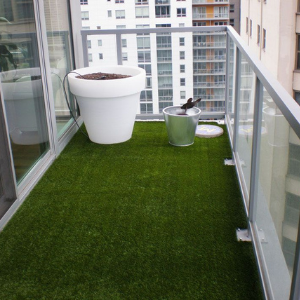 Upgrading to balcony grass creates an affordable "instant lawn" that requires minimal maintenance from season to season. It doesn't take much to keep everything looking beautiful, and there's very little expense associated. There may be a need to "hose down" the surface or sweep away any debris from time to time.
Otherwise, there is never a need for watering, weeding, seeding, or trimming. In short, the overall benefits of installing astroturf for a balcony make the initial dollar investment worthwhile.
Synthetic Turf with Pets
Even in the heat of summer or the cold of winter, outdoor balcony grass provides an excellent surface for pets to luxuriate. It's a great alternative to a hard, cement balcony, allowing pets to enjoy their time outdoors in a safe and confined environment. More than that, an artificial turf balcony is an easy and convenient outlet for every pet owner – at any time of day or night. With the correct type of artificial grass installation, it's also possible to create a space where pets can do their "business" (easy-to-clean protocol).
Installing Artificial Grass
Upgrading your condo with synthetic grass for a balcony or terrace should be left to a professional. You can ensure the turf is appropriately secured when done correctly, and the edges are correctly fastened. This is especially important in condos that are high altitudes and more susceptible to wind. With high-quality artificial grass in Toronto for your balcony and expert installation from the team at Echoing Green, you can be confident that any outdoor turf is installed to maximize performance and resist damage from weather fluctuations.
It's also essential to expertly secure entryways to prevent any tripping hazards. Most important on the balcony is assuring appropriate drainage for the seasonal elements. And finally, if pets are using the space as an "outdoor bathroom," extra attention is required in preparing the surface.
Good Dollar Investment
When synthetic grass for a balcony is installed professionally, the quality product makes for an ideal and cost-effective long-term investment. It means avoiding serious problems in future and assuring performance for years to come. While it's true that there are DIY options for installing synthetic turf for a balcony, the results of a DIY approach can't compare with a professional install. Like so many other home improvement upgrades, it's far better to do it right the first time, even with the additional cost.
Product Price and Value
Although the cost of astroturf for balconies is certainly a consideration, there's more to think about than just the price. With custom artificial turf, product resilience and long-term performance are assured when installing a high-quality product. Oftentimes, a lower price means lower quality – that's just how things work. Finally, a high-quality product will typically come with a solid product warranty. This is one of the most critical factors for consumers to feel assured with a purchasing choice.
Custom Turf Installation
When purchasing artificial turf at a local home improvement centre, the installation work typically relies on a 3rd party contractor (or a DIY approach). It's certainly doable, but with artificial grass for a balcony, the installation work requires some experience. A professional install entails several steps for a condo balcony – from drainage considerations to the proper application of turf product to the finishing touches. A professional touch delivers a much better quality installation than the DIY option.
Choosing Quality Turf
With artificial turf products, there's more to consider than price. While everyone wants the best price possible when it comes to product and installation, it's not always wise to choose a "great price" that's being advertised by a local home improvement retailer. The fact is, together, a quality product and a quality installation delivers the best long-term investment. At Echoing Green, you can shop our selection of artificial grass for your balcony confidently, as our product comes with a reputable warranty - an assurance of worry-free performance for years to come.
For Synthetic Grass in Toronto, Choose the Experts at Echoing Green
If you're shopping around for synthetic grass for a balcony in Toronto, Echoing Green provides a wide range of quality grass products along with professional installation. Our custom artificial turf comes with a 10-year warranty designed to ensure customer satisfaction for many years to come.
At Echoing Green, our European grasses are considered leading edge. Our artificial grasses are designed to be hard-wearing, natural-looking, and realistic in texture. And our innovative backing allows for optimal drainage – particularly well suited for balconies, terraces and patios.
Our artificial grasses adhere to strict European standards, thus providing a high-quality standard. As for installation, our in-house crews have the experience and expertise to ensure total customer satisfaction on every project. Our grass products are also colourfast and UV protected.
Whether it's for balcony grass or any other creative application, our exclusive artificial grass products perform exceptionally for years for both indoor and outdoor uses. From choosing the perfect artificial grass in Vaughan, Toronto, Mississauga, and accross the GTA for your balcony to high-quality installation, the specialists at Echoing Green are happy to guide you as you elevate your condo with artificial grass and all your other home projects.
Contact our in-house turf experts or fill out our online form to discuss how you can benefit from our products and services.
If you're looking for a more immediate quote – try our online cost estimate calculator.