Does Landscaping With Synthetic Turf Affect Your Home Value?
The ease and convenience of landscape turf are attractive to homeowners across the city. But if you're not sure if this is your forever home, questions naturally arise regarding the impact of synthetic turf on your property value. Artificial grass in Canada is growing more popular among property owners and buyers despite concerns. In many cases, synthetic turf is more favourable than natural grass for lawns and landscaping in Toronto and elsewhere in Canada.
Here are 6 Reasons Buyers Love Artificial Grass in Toronto.
Curb Appeal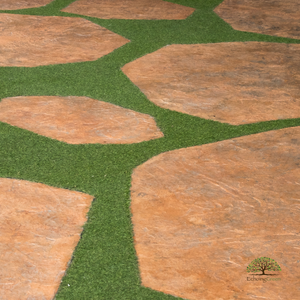 Landscape turf provides an all-year aesthetic to any home, especially when installed in front yards. Neatly groomed blades of synthetic turf give an aesthetically pleasing, long-lasting appeal that makes an excellent first impression to potential buyers. Curb appeal also keeps neighbours happy and assists with the attractiveness of the entire street and community.
Low Maintenance
Unlike synthetic turf, natural grass lawns are demanding in terms of time and money. New homeowners looking to achieve and maintain attractive landscaping but would like to save on the time-intensive regiment of lawn care as well as the recurring costs of water, gas, fertilizers, and other lawn treatments. Alternatively, artificial grass landscaping provides homeowners with the lawn they desire without the hard work of daily watering and costly maintenance.
Sustainable Living
More and more, millennials and other new homebuyers are looking to reduce their ecological footprint. So, sustainability plays a crucial role in buying decisions. Since synthetic landscape turf requires no water to remain green, vibrant, or lush and needs minimal water for maintenance or occasional cleaning, artificial grass reduces water waste during times of drought and increasing water scarcity.
Long-Lasting
Many people start looking for homes, aware that they will need to do some work: renovations and remodels. In many cases, that list of upgrades can get very long, so good artificial grass landscaping provides a sense of relief to prospective buyers who can take advantage of the long-lasting artificial grass landscaping. At Echoing Green, our artificial grass is engineered for longevity in outdoor and indoor environments. Even after days of repeat use and play, premium European turf is expected to last for decades.
Safer for Families
One of the driving factors to look for a new home is a growing family, usually inclusive of kids and pets. Artificial grass is safer and equipped for kids and pets than natural grass. Traditional lawns are typically contaminated with any combination of bacteria, molds, pests, chemical fertilizers, and harmful pesticides/herbicides. Upon contact or ingestion, any of the contaminants mentioned above are a health risk, especially among young children and pets who are difficult to monitor. Landscape turf from Echoing Green is designed for kids to prevent the growth of bacteria, the need for chemicals, and the nesting of parasitic pests.
Resale Value of Synthetic Turf
If you're looking to upgrade your lawn to artificial grass from Echoing Green, not to worry. Our synthetic turf does, in fact, improve resale value in the long run, should you decide to sell your property with artificial grass.
To learn more about artificial grass installation in Toronto, the Echoing Green team can help.
Schedule a consultation with the artificial grass experts at Echoing Green.