Customize Your Dog Run Turf with Commercial Artificial Grass
If you run a pet-centric business, like a vet or pet store, designing and installing your very own dog run with commercial artificial grass just makes sense. With synthetic dog run turf and an attractive space, you can attract dog owners and dogs with a play area that allows dogs to socialize and exercise. Maintaining and installing dog turf is easy and cost-effective when you install high-quality commercial artificial grass in Toronto. But when you choose Echoing Green for artificial grass installation, your dog run can be so much more!
Read on to learn all about customizing your dog run!
Length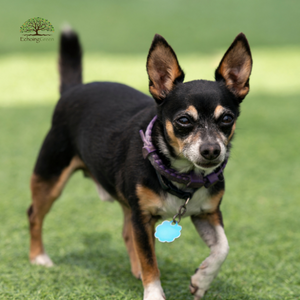 The typical artificial grass for dogs at Echoing Green is Echo 60, a commercial artificial grass that features ultra-real looking short, dense synthetic fibres that are durable and dog-friendly. While this is the recommended turf for dogs, it's not your only option. You can view a range of artificial grasses that come in various lengths and densities to suit your landscaping vision.
Colours & Patterns
While the default colour option is usually green to enhance the authentic appearance of your synthetic dog run turf, at Echoing Green, you can choose from a variety of colours and patterns for your turf. Choosing different colours and artificial grass patterns can make your dog run appear more attractive and exciting to pet owners and will definitely make it even more memorable, urging customers to return.
Different coloured turf in one dog run installation is also helpful for designating specific areas. You can separate your dog run into multiple sections for other dogs or different types of pets. For example, rowdier or bigger dogs can be directed to one area of your dog run, while docile pets can be designated a separate area.
Installation
Once you've chosen your custom artificial turf for your dog run, you'll have to install it. With custom artificial grass installation, your turf can be cut to neatly fit an area of any size or shape. Straight or curved edges, the Echoing Green artificial grass installation team will help you securely place your artificial grass in Toronto in any custom shape. To level up your dog run, you can use artificial grass to line pathways, stairs, and more - even if it is paved, giving dogs access to the comfortable texture of artificial grass throughout the property.
Branding
Custom artificial grass from Echoing Green can be branded with your logo or business name in the colour of your choosing to match your brand. This is great for marketing and branding purposes. So, when pet owners share photos and videos of their pets playing at your business's dog runs, they'll share it on social media for everyone to see. In addition to outdoor dog run turf, you can install custom branded artificial grass inside your store or office too for a cohesive experience, inside and out.
Commercial Artificial Grass Toronto at Echoing Green
Echoing Green is Canada's trusted artificial grass supplier. We offer high-quality artificial grass for dogs that are durable, long-lasting, non-toxic, and mess-free. To find the perfect turf solution for you, your business, or your pet, view our selection online or contact the team to speak to an artificial grass expert directly.