Custom Indoor Putting Green vs Golf Mats
If you're an avid golfer looking to bring your favourite game into your home this fall and winter, you will likely come across two options: an artificial grass indoor putting green or a golf mat. While either of these will use putting green turf to allow you to play indoors, they are incredibly different when you take a closer look. If you're hesitant to take the plunge on indoor putting green from Echoing Green, here are 5 things you should consider before you make your decision.
Cost-Effectiveness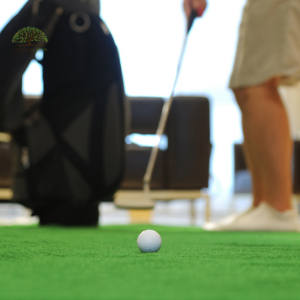 At first glance, many people find that the low initial cost of putting a green turf mat for indoor golf is a more affordable option than an artificial grass putting green. Since golf mats are not installed into the floor and are usually thinner than a premium putting green, they experience wear and tear easier. As a result, golf mats have a shorter lifespan which can quickly rack up quite the bill and become inconvenient if you're looking for long-term use. When you build a high-quality golf green with premium putting green turf from Echoing Green, you can trust that your one-time purchase of an indoor golf green will be functional and in good condition year after year.
Complete Customization
The standard putting mat can be bought instantly at virtually any retailer in-store or online. You can choose from one or two designs, but these indoor practice greens are typically flat with one hole. With premium putting green turf from Echoing Green, you can work with the design team to build a custom indoor golf green of any size, shape, and topography for a completely unique experience and design that can't be found anywhere else.
Better Practice
Using a golf mat, your stroke options are limited. The hole is always in the same spot and the same distance from one end of the mat to the other. In most cases, the turf used in golf mats is not engineered to replicate the play on a natural golf green. When you build a custom artificial grass putting green with the Echoing Green team, you can create a bigger green that has more strategically placed holes. Paired with high-quality putting green turf, you can experience course-like ball roll and breaks to truly strengthen your putting skills.
Group Play
Golf putting green mats are usually manufactured for a single-player targeted to offices or other indoor uses. Using a golf mat can be underwhelming and difficult if you want to play with friends or family. A custom golf green designed by Echoing Green is better equipped for use by a group, for friendly competition, or even small events because of the increased space and better quality putting green turf. Additionally, the unique home feature can earn you some serious bragging rights. At Echoing Green, our artificial grass golf greens, unlike golf mats, are designed to withstand heavy foot traffic without wear and tear for years.
Think an Echoing Green putting green is right for you?
Contact our team today for more information.