Creative Landscaping Turf Ideas For Scrap Turf
If you're ordering turf in bulk from artificial grass wholesalers for landscaping jobs, you'll often end up with excess scraps of landscape turf. But that doesn't mean it has to go to waste. Expand your horizons and service offering by using leftover high-quality artificial grass for creative landscaping and design applications that you can monetize. Depending on the size and shapes of scraps from landscaping jobs, the options are virtually endless.
Here are some creative ways to make use of extra turf from artificial grass wholesalers.
Repurposing Landscape Turf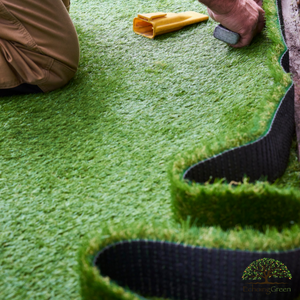 Artificial grass wholesalers are more than just a lawn replacement. The versatile flooring can be installed in a range of unique applications inside too. The scraps can accumulate quickly if you order high quantities or frequently for artificial grass wholesalers. Artificial grass from Echoing Green is made with lightweight, durable polyurethane backings that can easily be transported from one job to another without breaking down or compromising its integrity.
Large Pieces of Artificial Grass
Large pieces of leftover landscape turf are probably the easiest to make use of. They can be used on new jobs for backyard turf, but they can also be used for indoor or outdoor carpets and areas that require padded flooring. Artificial grass can easily withstand the weight of heavy objects, making it great for furniture and heavy foot traffic. If your turf has been cut into unique shapes or patterns, large scraps can be used to create kids' play areas with interesting patterns and exciting textures.
Medium Pieces of Landscape Turf
Mid-size pieces of leftover artificial turf can leave installers and landscape companies unsure of how to use it. But grass from Echoing Green can be adapted to various spaces and applications. A widespread use for artificial grass in Toronto is pet turf. Short artificial grass can be inputted into backyards for designated pet potty pads. With minimal training, artificial grass for dogs quickly becomes an easy-to-clean favourite for pets and owners alike. You can also turn artificial grass into welcome mats, placemats, table runners and patterned walkways.
Small Scraps of Artificial Turf
Many landscapers dispose of small pieces of leftover turf under the impression that they're useless because of their size, when in fact, it can be used in many creative ways, mainly as a design accent. Even the turf just a couple of centimetres wide can be used to line planters, wooden decks, backyard patios, and even kitchen detailing.
No matter how you use landscape turf in Toronto, your customers will still reap the benefits of artificial grass from Echoing Green. Our unique, premium quality turf is built to offer exceptional, low-maintenance performance for years. Backed with a ten-year warranty, landscapers can purchase the product online and get on-site delivery.
Professional Guidance Services
Echoing Green is more than just another artificial grass wholesaler if you're new to artificial grass installation. We offer professional guide services to help landscapers get started with artificial grass in Canada. For installation support or all your landscape turf questions, you can reach out to the Echoing Green team.