Create Your Own Private Sanctuary with Artificial Grass
When decorating our homes, we want them to be catered to our tastes and style. This summer, customize your outdoor space with artificial grass for balconies and backyards. Not only will artificial grass help achieve the style and personality your outdoor space deserves, but it also guarantees that your backyard or patio is relaxing, comfortable, and versatile. Curating a private outdoor space that's customized to you is perfect for creativity, mental well-being, and rejuvenation.
Here's your guide on how to create your own private sanctuary with artificial grass for balconies and backyards.
Where Do You Want to Build Your Private Space?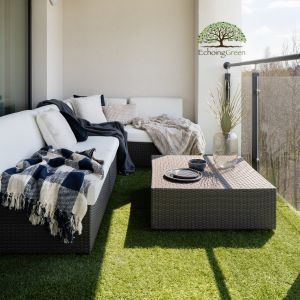 Before purchasing artificial turf, you need to figure out where you want to build your private outdoor oasis. Is it on your balcony, front porch, deck, or a section of your backyard? Whether you want a personal reading nook on your balcony, an outdoor gym on your patio, or a lush, secluded tropical escape in your backyard, artificial grass is excellent in any of those areas.
Regardless of where you build your private space, it's sure to be luxurious, especially with Echoing Green's artificial grass.
Why Choose Artificial Grass for Flooring?
Artificial grass for balconies and backyards has many benefits, whether you're using it in or outside. For one, it's incredibly durable and weather resistant. With UV resistance and strong polyurethane backing, synthetic turf will stay in peak condition, even with hot temperatures, high winds, and snowy winters. Another key benefit is that it's easily customizable. If you have a clear idea or specific vision for your new outdoor space, like a workout space or putting green, we have the perfect turf. From design, shape, pile height, and density to colour, your private outdoor area can be easily achieved with Echoing Green's artificial grass.
Perhaps what people enjoy most about artificial turf is how easy it is to maintain. Echoing Green's synthetic grass requires little to no maintenance — just the occasional sweep to brush away dirt and debris. With our premium European turf, keeping your private outdoor space clean will be a breeze.
Functionality You Can Create
Synthetic grass is incredibly versatile and can serve many functions and applications. If you're tired of traveling to and from the gym and paying hefty membership prices, artificial turf is an excellent way to build the foundation of your home gym. Our gym turf is strong and shock-absorbent, perfect for high-intensity workouts. Or, the soft surface makes it perfect for yoga or meditation. If you want to create a secluded nook in your balcony or backyard, artificial turf will help make it cozy and comfortable.
Why Choose Artificial Grass from Echoing Green
At Echoing Green, we use premium European artificial grass for all applications — from putting green turf to gym turf, residential turf, and even turf explicitly designed with pets in mind. Our goal at Echoing Green is your satisfaction. We provide lush, durable and customizable grass that will last you years. When designing the perfect, secluded getaway in your balcony or backyard, we'll work with you to bring your vision to light.