Create Your Own Backyard Playground with Artificial Turf
With artificial playground turf, parents can say goodbye to the hard and abrasive surface of conventional playground space. As it is, artificial grass in Toronto for play areas is far safer and more sanitary than any of those sand or gravel options.
Today's synthetic grasses are made of highly advanced fibres, giving the grass surface a soft and comfortable feel. These grasses are also free of allergens and don't need any of the typical maintenance requirements of natural grass.
Artificial playground turf eliminates almost all of the regular maintenance needs associated with natural grass. There's no need to cut the grass, there's no need to water or fertilize, and the surface dries very quickly, even after heavy rainfall.
When creating a backyard playground for the kids, synthetic turf offers peace of mind – and there is no surface that is as safe. At Echoing Green, we can get everything started right away and have an ideal playground ready for summer.
Benefits of Artificial Grass Over Natural Grass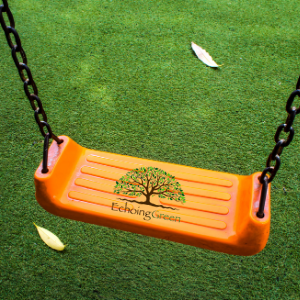 One of the primary benefits of artificial playground turf is the minimum maintenance that is required. At most, the surface needs rinsing from time to time and perhaps some brushing to keep everything well tufted. Otherwise, there's no need for watering or mowing or fertilizing.
With artificial grass for play areas, there will never be any dead grass, no matter the weather and no matter the season. Overall, even with the upfront installation costs, there is much less cost over the long term when compared to the seasonal maintenance costs with natural grass.
Safer than comparable playground materials
When comparing artificial grass with other playground materials, the biggest question parents ask about synthetic grass is whether the material is hazardous to their children. The answer is NO. Maximum safety is ensured with a shock-free under-pad. More than that, the surface materials are non-toxic. Finally, with high-quality infill, the material is free from allergens and heavy metal.
Durable throughout the year in all weathers
With a high-quality artificial grass product, the weather extremes of summer and winter do not affect the surface material in any way. Long-term durability is assured around the year, even in high-traffic areas. Advanced manufacturing allows for adequate drainage during rain and snowstorms. And in heavy rain, water simply runs off the surface as it typically would with natural grass.
Artificial grass looks good all year-round
From an aesthetic point of view, good quality artificial grass looks great all year round, whether the weather is scorching hot or freezing cold. It means that a backyard children's playground can be enjoyed in spring, summer, autumn, and winter. Today, the better quality grasses are UV protected. Even with daylong sunshine, there is never a problem with colour fading or discolouring.
Artificial turf is environmentally-friendly
Top-quality artificial turf products are considered environmentally friendly because of the material used in manufacturing. More than that, there is no negative impact on the environment because no fertilizers have to be used, and no insecticides have to be sprayed. Artificial turf also doesn't need any watering. As such, valuable water isn't being wasted when trying to keep a lawn, patio, or playground beautifully green from season to season.
A clean and uncontaminated surface
When installed according to the manufacturer's specifications and with the suitable maintenance that's recommended, artificial grass for play areas (and the infill materials) provides a clean and uncontaminated surface. Industry studies show that artificial turf is no more harmful than other landscape materials. A suitable cleaning protocol will very effectively protect the surface.
The Cost of Installing Artificial Turf
The cost for installing artificial turf depends on various factors, whether it's a playground area or an entire lawn. The price will depend on the grass product chosen, on additional supplies and/or products, and on the extent of the installation. Clearly, everything depends on the space size.
For example, an entire front yard or backyard installation would naturally be more costly than a smaller patio area or outdoor deck. As well, fancy landscape features will add cost to the project. A reputable installation company will suggest the best product and installation for the product.
Professional Approach to Artificial Grass Installation
With playground turf, homeowners will attain the best results with a professional installation. A DIY installation may save money in the short term but could potentially look unappealing. When working with a professional, homeowners are assured of a job that is done right the first time.
At Echoing Green, in-house installers do it right – preparing the base appropriately, cutting and trimming to perfection, and ensuring a flawless finished installation. We also install a proprietary "backing system" which provides the proper drainage along with long-term seasonal performance.
Toronto Artificial Grass Leaders
Echoing Green installs artificial grass for play areas throughout the Greater Toronto Area. We service residential and commercial customers, assuring 100% satisfaction on every job. While we offer our grass products for DIY homeowner artificial grass installation, we usually recommend a professional installation, especially for larger projects like a complete backyard or front yard.
Echoing Green stocks proprietary artificial grasses that come with a 10-year warranty. It's a promise of high-quality grass products and long-term performance. Our European grasses look natural and realistic while providing the durability that is necessary for an outdoor environment. Our grasses are hardwearing, season after season, even in high-traffic areas.
Learn more about Echoing Green products by calling one of our specialists directly at 647-494-4883 or visiting our company website at https://www.echoinggreen.ca. Our customers can also request an online price quote using our convenient online application. During COVID-19, we are committed to serving our customers in the safest possible manner, with a high level of hygiene protocol.
At this time, we are also providing contact-free installation services to protect our customers and our workers. Importantly, we appreciate the negative impacts that COVID-19 has had on everyone, and we are doing our very best to keep everyone safe during our day-to-day operations.