Create a Multi-Purpose Space with Artificial Grass for Balconies
Many people in Toronto, the GTA, and other major Canadian cities live in condos that limit the amount of space and access to green space they have. Using versatile residential artificial turf from Echoing Green, condo-dwellers can increase the functionality of their balconies. With innovation and premium artificial grass for balconies, you can bring the greenery of the ground to your apartment in the sky.
Residential artificial turf for balconies is a flexible flooring alternative with endless opportunities to change and modify your outdoor area into a creative, relaxing, or active environment. Read on to learn how to customize your space and increase its functionality with artificial grass for balconies.
Work Out Zones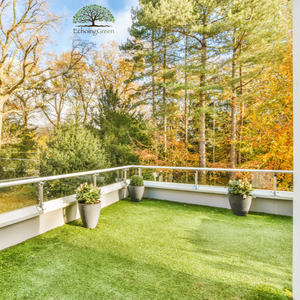 If you are not a fan of communal gym space, or you find yourself tired of going out into the cold weather for a run, there's an alternative. You can transform your condo into a workout zone with artificial grass for balconies designed for high-intensity exercise. When you install artificial grass for exercising, your balcony will double as a home gym, so you never have to leave to work out.
Installed with Echo Play, an underpadding that enhances shock absorption, artificial grass makes working out pain-free by reducing the impact on your joints. Our gym turf is strong and long-lasting, engineered to last decades, no matter how intense your workouts are.
When you are using artificial grass to transform your balcony into a multi-functional space, it's important to be able to easily clean the surface to avoid slipping or bacteria. At Echoing Green, our residential artificial turf is designed to facilitate the drainage of stagnant water and installed with antibacterial infill that effectively fends off bacteria and other contaminants. If you would like to go the extra mile in ensuring a clean gym space, we also have AquaKlor available, a non-toxic artificial turf cleaner that will keep your turf disinfected and smelling fresh.
Putting Greens
Many golfers don't have the backyard or indoor space for their own putting green. So if you're tired of spending time and money at the range, you can install a custom artificial grass putting green for your balcony. Cost-effective residential artificial turf enhances the functionality of your backyard, allowing you to sharpen your short game or exchange in a friendly challenge, all from the comfort of your home. The team at Echoing Green is experienced at custom home putting green design and will help you bring your personal vision to life.
Reading Nook
Reading is a great way to disconnect from the fast-paced world around you, and having a designated place to explore different stories can help enhance the experience. You can carve a small nook out of your outdoor space and make it a cozy space for reading and relaxing. With our premium artificial turf, you're able to walk outside without any worry about pests, insects, weeds, or puddles and curl up with a good book at any time you like. If you're interested in a relaxing and creative corner of your outdoor space, artificial turf from Echoing Green is the solution.
Artificial Grass for Balconies from Echoing Green
Whether you have a creative, active, or relaxing space in mind, we will help you achieve the perfect outdoor environment with our premium artificial grass.
Get the most out of your residential artificial turf with Echoing Green. With our cost-effective and durable artificial grass solution that enhances outdoor landscaping, you can be creative and innovative. If you have an idea for a multi-purpose outdoor space, visit our website for some inspiration and any questions you may have.