Choose Artificial Turf to Match Your Foot Traffic
Quantity and cost can sometimes overshadow the importance of quality in artificial turf wholesale. However, artificial grass wholesalers, like Echoing Green, offer a range of cuts designed to hold up in various commercial and artificial grass applications. By understanding how each type of artificial grass benefits different property types and enables functionality, you can order the wholesale artificial turf in Canada to best fit your projects. To optimize the performance of any synthetic turf application, you should assess how it holds up against different levels of foot traffic.
Here are tips on how to choose artificial grass for high-traffic areas.
Artificial Grass Design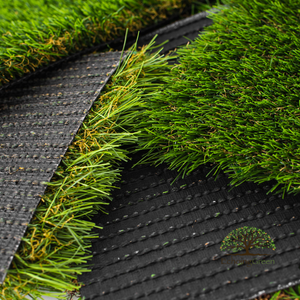 Contrary to popular belief, face weight does not play a significant role in the durability of artificial grass from Echoing Green. This property is directly related to fibre density, but it's also contingent on the quality of the fibres themselves. Our European turf depends less on face weight or pile weight, the total weight of the turf outside of the backings. The blades of our premium European turf are engineered with curves to compensate for high-traffic applications. If you're not sure which artificial turf is appropriate for a particular project or property, contact Echoing Green for professional advice.
Artificial Grass Backing
Those looking to buy artificial turf wholesale will come across two main types of backings: latex and polyurethane. Latex backings are thick and heavy, which can come across as more durable. But that's not the case. In some cases, cold latex backings will crumble and deteriorate. On the other hand, polyurethane backings are advanced artificial grass technology that better locks in fibres to withstand heavy traffic. Poyutherane's high tolerance for freezing temperatures effectively prevents turf from breaking down during Canadian winters. A durable solid backing is key to long-lasting pet turf and playground turf.
Pile Height
Pile height refers to the length of the turf's individual fibres. Artificial grasses with longer pile heights are best suited for low traffic areas like residential lawns and backyards where the goal is a lush aesthetic. Shorter pile heights are more durable and used for areas with more activity. In heavy traffic situations, artificial grass with longer pile heights will begin to mat and wear out, so shorter grasses are ideal.
Infill
Infill is used during installation, working in many ways to ensure the longevity of artificial grass in Toronto. High-quality infill protects backings, fibres, and tuft lock, while also holding the grass fibres upright, enhancing the liveliness and durability of the turf. Infill is key to all artificial grass installation, especially applications where there is a lot of anticipated foot traffic. When artificial grass is installed with properly distributed infill, fibers become more difficult to come loose and backings deteriorate.
Choosing Echoing Green for Artificial Turf Wholesale
There is no one size fits all artificial turf for wholesale, so Echoing Green stocks a variety of grasses for every application. Mix and match when you order online and shop artificial grass installation accessories too. At Echoing Green, our grasses are designed to maximize durability and aesthetic appeal. If you need help choosing the right grasses for a project, our team will gladly help.