Benefits of Decompacting Artificial Grass Installations
Artificial grass installation has become increasingly popular over the years due to its wide range of benefits, from year-round green grass to eliminating allergens and pollen in your backyard. Artificial grass makes life easier and more enjoyable. Echoing Green provides luxurious artificial grass maintenance and installation services to homeowners and businesses around the GTA. Enjoy a colourful backyard or outdoor area with artificial grass.
It's essential to perform maintenance on your artificial grass to ensure the best aesthetic and proper draining. Decompacting your artificial grass is crucial in preventing wear and tear, primarily if pets use the turf to relieve themselves. Learn more about the importance and benefits of decompacting your artificial turf below.
Benefits of Artificial Grass Installation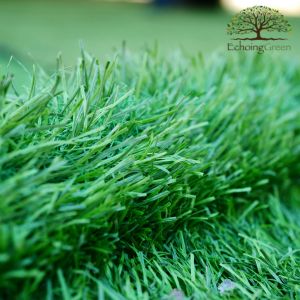 The many benefits of artificial grass make a big difference in your everyday life. It eliminates the hassle of lawn maintenance, so if you are allergic to grass, Echoing Green can save you from hard labour and allergy symptoms. With dogs and kids running around and playing in the backyard, artificial grass installation provides a safe and mess-free environment for them to roll around without hassle. Due to the lack of maintenance, you no longer need to worry about using dangerous chemicals on your grass to keep it alive or insects away. Create a safer backyard for you and your family to enjoy.
What Gets Stuck in Artificial Grass?
One thing to remember is debris that can get stuck in your artificial grass. It's natural for items to get carried in the wind or left behind on your artificial grass. Quick cleanups can mitigate compacted grass and regular artificial grass maintenance is handy. Come common synthetic turf contaminants include:
Leaves
Dirt
Pollen
Animal Droppings & Organic Materials
Insects & Critters
Litter & Debris
All this debris can easily be removed by brushing out your artificial turf and hosing it down at least once a month. With expert artificial grass installation, luxury synthetic turf, and exceptional infill you can mitigate the rate at which your turf becomes plugged. At Echoing Green, our selection of artificial grass is designed to enable drainage. When paired with artificial grass maintenance and turf cleaning, you can count on long-lasting landscaping.
How Drainage Works in Artificial Grass
Draining in artificial grass installations is extremely important to prevent water accumulation and ponding. Especially with dogs, you want to avoid their waste sitting there to form an unpleasant smell. Proper draining will remove those smells and keep a fresh backyard.
Here is how artificial grass enables drainage:
There is first a layer of crushed-up gravel, which is the permeable base that allows the water to pass through
Artificial grass is generally installed on a grade, sloping away from the building to prevent water backups.
Infill is installed at the base of the artificial grass, helping water move away from the surface of the turf.
The sun and warmth promote quick evaporation to keep a dry artificial grass surface.
Other Artificial Grass Cleaning Methods
Whether you DIY your artificial grass cleaning or call a professional to get the job done, it's crucial to perform this routine regularly, no matter the climate. Going through with a broom is an easy way to get rid of loose dust and dirt that travels into the grass. Conducting artificial grass maintenance at least once a year with Echoing Green ensures the best possible care for your grass and promotes longevity in your backyard.
Artificial Grass with Echoing Green
Echoing Green has provided luxurious artificial grass installations to businesses and homeowners throughout Ontario for many years. Our commitment to excellence extends from our product to our installation and maintenance services. Experience it for yourself.