Benefits Installing Artificial Grass for Backyards in the Fall
During the spring and summer, property owners flock to their landscaping stores and explore potential upgrades that can be made to their property, whether it's interlocking patio bricks or backyard pools. Artificial grass installations are warm-weather additions that are becoming more popular and better appreciated throughout the Greater Toronto Area. And while artificial grass in Toronto does offer many benefits during the summer, it's still a highly beneficial addition coming into the fall season. With Echoing Green, you'll find high-quality European-made artificial grass for backyards, lawns, backyard golf greens, balconies, and so much more.
Read on to explore the benefits of installing artificial grass for your property in the fall.
Maintain Lawn with Ease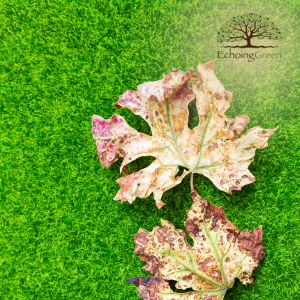 As the colder temperatures become more common and morning frosts start to threaten the allure and health of your landscaping, artificial grass will sustain its beautiful colour. When the season changes and the temperature fluctuates, natural grass has a more challenging time staying alive. But because artificial grass for backyards is designed to withstand wind, snow, ice, and water, you don't have to worry about devoting extra resources and time to helping your lawn through the last few months of the season.
Winter Proof Landscaping
After working hard all summer to maintain a pristine natural lawn, winterizing is recommended by landscaping providers to ensure all your hard work transfers to the new year, keeping your grass in good shape by the spring. Unfortunately, winterizing is very tedious and costly, and in some cases, it can be ineffective. From aeration to irrigation system management, many steps are involved in lawn winterization, which will either require a significant amount of time or expensive resources. With artificial grass for backyards, your landscaping is designed to stand up against winter conditions through to spring without damage or extra winterization, saving you time and money.
Enjoy Good Weather
Fall in the Greater Toronto Area does not mean the end of the pleasant weather. While winter is in sight, there are still many weeks that can be enjoyed outdoors with the right landscaping. Natural grass has limited functionality and requires significant maintenance, i.e. watering, mowing, fertilization etc. With artificial grass in Toronto, the care needed for sufficient upkeep is significantly reduced, saving you time that can be better spent enjoying your outdoor space. Using luxury artificial grass from Echoing Green, you can build custom playgrounds for your kids, dog-friendly areas with pet turf, or beautiful backyard golf greens with our leading putting green turf. The options are virtually endless when you choose Echoing Green.
Easier Artificial Grass Installation
As the season comes closer to the end, artificial grass installation is easier than ever. For expert backyard turf installation, it's always recommended to choose a professional service provider. At Echoing Green, our experienced team can help you upgrade your landscaping in a matter of just days, using high-quality materials from luxury artificial grass to high-performance infill. When you choose Echoing Green, you can count on quality and longevity.