Beautify Your Balcony Garden with Artificial Grass
Landscaping is a great option to enhance your outdoor space for the long term, but many condo owners can feel disappointed by the lack of outdoor options. Sitting high above the city most condos and multi-story buildings are limited in their outdoor recreational space. In most cases, plain, cold landscaping is unexciting, but with artificial grass in Toronto you can reinvent your outdoor space, adding a dash of greenery and enhancing the functionality of your outdoor space. Our luxurious artificial grass for balconies at Echoing Green allows you to reimagine your outdoor condo experience.
Learn more about how you can indulge the senses and update your outdoor space with comfortable and durable European artificial grass for balconies.
Artificial Grass & Weather Conditions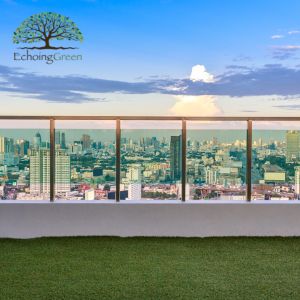 When compared to natural grass or alternative flooring options, artificial grass in Toronto offers condo-dwellers many benefits. All of our grasses are made with modern polyurethane backings that are not only lightweight and flexible but also are equipped to survive the year-round freeze-thaw cycle from season-to-season without succumbing to the weather. With skilled artificial grass installation from the experienced Echoing Green team and high-quality infill, your balcony turf will stand up against strong wind, bouts of rainfall, snow, and even persistent sun exposure for comfortable use throughout the year.
Maintenance & Pest-Free Balconies
Installed with specially-designed drainage tiles, artificial grass in Toronto can be seamlessly installed on concrete surfaces to improve the texture and outdoor experience. One of the most attractive features of artificial grass is its ability to fend off weeds and pesky insects that typically inhabit natural grass. When you opt to install artificial grass for your balcony you won't have to mow, fertilize, or water your lawn. All you have to do is enjoy.
Customize Artificial to Your Space
One of the prized aspects of artificial grass is that it is customizable according to your needs and wants. There are a variety of artificial grass colors and densities to choose from. You can also pick the size and shape you would like to use for your balcony.
Fast Installation and Convenient
Artificial grass in Toronto is a fast balcony makeover option that will make your outdoor space truly feel like home. Our installation teams serving the Greater Toronto Area will revamp your balcony skillfully in a short period of time so you, your family, and your pet can start using it almost immediately. With fresh long-lasting turf on your balcony you can experience the comforts of being outside even in the winter or on the busiest days.
Decorate Your Artificial Grass Balcony
Once you have installed your luxurious artificial grass, consider adding a few more accessories to bring your balcony to your life. You can place a comfortable chair or swing with a small outdoor table to enjoy coffee, tea, or iced lemonades. You can consider hanging plants and adding standing artificial plants or small trees with colorful flowers. You can add so many decorative features to your balcony space, from printed pillows to floor mats created for outdoor use.
Echoing Green for Luxurious Artificial Grass in Toronto
Echoing Green has been a leading supplier of luxurious European-made artificial grass for many years. We use the highest quality products, and our artificial grass is backed with a ten-year warranty.