Avoid These Indoor Putting Green Installation Mistakes
An indoor putting green is an exciting addition to any property, especially for golf lovers who are always looking to improve their game. Quality artificial grass in Toronto makes the decision to install an indoor putting green a fairly easy one. When you choose putting green turf from Echoing Green, you can rest assured that your golf green will last a long time, looking vibrant and playing beautifully.
Read on for tips on how to get the best indoor putting green that artificial grass in Toronto can offer.
Don't Choose a One-Size-Fits-All Indoor Putting Green.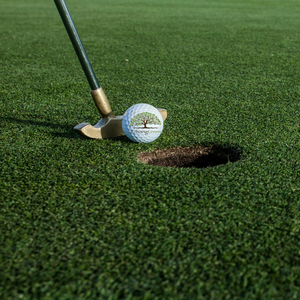 When you start to look for an indoor practice green, it can be tempting to go online and order a simple putting green mat. However, putting green mats does not offer the same precision and efficiency as artificial grass in Toronto designed for golf. Instead, opt for a customized putting green. At Echoing Green, our team will design a unique indoor putting green that slopes and breaks as you desire using premium putting green turf that facilitates incredibly realistic ball roll.
Don't Wait Too Late to Choose Cup Placement.
During the installation of artificial grass putting green, the cups need to be installed pretty early on. If you're not happy with the placement, it can be difficult or, in some cases, impossible to go back in and rearrange them. Choose out a couple of hole locations depending on the size of your indoor putting green. Pick areas of the green with different slopes to practice putts with various levels of difficulty.
Don't Miss Any Steps Securing Your Putting Green Turf.
The most important step in artificial grass installation is ensuring that every piece of putting green turf is secured correctly. Proper fastening is a multi-step process that helps ensure the durability and longevity of artificial grass installations in Toronto. At Echoing Green, we stock all the staples, glue, and nails necessary to effectively secure golf green. The perimeter and the seams of the indoor putting green should all be tightly fastened to one another. For help with artificial grass installation of any kind, it's best to rely on a professional team, Echoing Green, who can streamline the installation process with expertise and accuracy.
Don't Skip Out on Installing Artificial Grass Fringe.
One of the best reasons to choose artificial grass in Toronto for your home putting green is its ability to replicate the feeling and play of an actual course. If you opt out of the fringe, you can lose the experience and practice of putting your ball from that position. Not all artificial grass in Toronto will property suffice as the fringe around an indoor putting green, so talk to Echoing Green to pick out the exact right grass for the perimeter of your putting green.
Don't Choose an Infill That Isn't High Quality.
Infill is one of the final stages of the artificial grass installation process but one of the most important. A high-quality infill serves many purposes. It helps each blade of synthetic grass stand up straight and weighs down the base of the turf for durability and strength. It also is equipped with MicroBan technology that prevents disease, odours, mold, and mildew.
Don't DIY Your Indoor Putting Green Installation.
If you're not experienced with artificial grass in Toronto, don't take on the stress of installation yourself. The Echoing Green has been installing outdoor and indoor putting greens across the city for years. Contact the team for high-quality workmanship and a green you adore.
Contact the Echoing Green for availability and install your putting green in time for Spring!