Artificial Grass Maintenance Tips for Families
For homeowners looking to transform their landscaping and create envious curb appeal, look no further than artificial grass in Toronto. Artificial grass has become highly sought after in the city and suburbs for its pristine appearance that makes it easy for homeowners to achieve the luxury yard they've always wanted. Artificial turf is also long-lasting and easy to maintain, making it an excellent option for busy families. However, the nature of families means that things get a little messy, but artificial grass maintenance is easy. For high-quality artificial grass in Toronto, contact Echoing Green for artificial grass installation.
To learn about how effortless artificial grass maintenance can be with exclusive European turf, keep reading.
Sticky Spills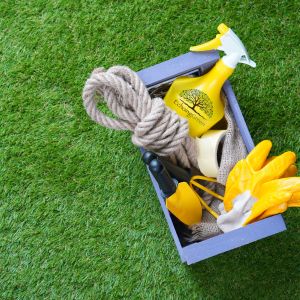 Spills happen, and in some cases, they're sticky. Cleaning up sticky spills has never been easier than with Echoing Green's luxury turf. If you encounter a spill on your artificial grass, simply rinse it away with your hose and let it dry. If there is a persistent odour from a mist with EchoFresh, our innovative artificial grass maintenance spray will digest odour-inducing bacteria leaving in its place the refreshing aroma of fresh-cut grass.
Matted Fibres
Sometimes, the artificial fibres become matted. Not only does it give your lawn an unsightly appearance, but it also makes your artificial grass less comfortable. Try brushing or raking your lawn if you notice that your artificial turf has become flat and matted. If you opt for a rake, make sure it's a plastic rake; a metal rake may damage the synthetic fibres. To go one step further and to ensure your artificial grass stays upright and sturdy, try topping up your infill. While infill is a part of the artificial grass installation process, it sometimes needs to be topped up. Infill helps every single artificial grass fibre stand up straight and remain strong. To explore how infill can help your artificial grass in Toronto, talk to the Echoing Green team.
Upkeep Drainage
Artificial grass needs to have proper drainage in order to keep it safe, healthy, and long-lasting. Our advanced polyurethane backing that facilitates drainage is just one of the many features of our grass that sets Echoing Green apart. In the instance that a foreign object, like a toy, gets trapped at the bottom, drainage may be impacted. If drainage is affected, it can create a slippery surface that could result in falls, trips, or slips. It may also increase the presence of mosquitoes and mold spores. Rather than wait for rain or try to find the trapped toy, contact Echoing Green. Our artificial grass maintenance service includes decompacting, which removes foreign objects and ensures adequate drainage.
Keep Contaminants Out
By keeping your artificial grass maintained and ensuring proper drainage, you won't have to worry about contaminants, like toxins from fertilizers, mold and mildew lingering in the air, or bacteria. Also, by keeping contaminants out with artificial turf, seasonal allergies will be at an all-time low. Without pollen from flowers and weeds, no one in your family will have to deal with pesky allergies this summer.
Choose the Best Artificial Grass in Toronto
If you're interested in spending less time on maintenance while still having a luxurious and family-friendly backyard, visit Echoing Green. Our team of specialists will guide you every step of the way so you can get the backyard you've always wanted.