Is Artificial Grass Good For Dogs?
With artificial grass becoming more and more popular these days, many homeowners are wondering about installing artificial grass for dogs. The big question is whether dogs might be negatively affected when switching from natural grass to artificial grass.
After a professional artificial grass installation Toronto, dogs can actually enjoy the new environment right around the year. The artificial grass is safe for all pets and is typically much more resilient than natural grass. But there are still some things to consider before installing.
Artificial Grass for Dogs is Durable and Resilient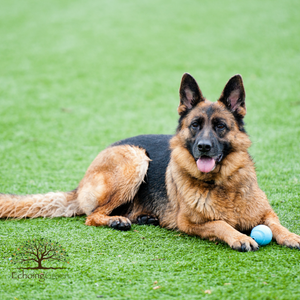 Dogs can be particularly rough on natural lawns, especially when they decide to burrow around. Today's artificial lawn products are super-resilient and well suited for any dog's "rough stuff". With the proper construction components, artificial turf combines both comfort and durability.
Dog's Going to The Bathroom Will Not Damage Artificial Grass
When installing artificial grass, dogs generally get accustomed to the new environment, and will gradually adapt their habits after a short transition period. The best news is that dog waste does not negatively impact the turf. Fluids easily drain, and the turf surface is very easy to clean.
Artificial Grass is Very Easy to Clean / Deodorize
When it comes to pet waste, artificial grass is just as easy to clean up as natural grass. Although waste fluids will drain through, the surface needs to be properly cleaned and maintained in order to prevent any residual odours. Properly washing down the dog's "favourite spot" will do the job.
High-Quality Artificial Turf is Typically Non-Toxic
Installing high-quality artificial grass for dogs is the key to ensuring a non-toxic environment. As such, homeowners should shop carefully for non-toxic artificial grass products. To be sure, there are far fewer negative effects when compared to natural grass that has been chemically treated.
Benefits of Artificial Grass Installation Toronto
With artificial grass, the benefits are both aesthetic and economical. There's no need to water, so there are no expensive water bills. There's no need to buy fertilizer or chemical weed killers. And there's certainly no mowing required. Best of all, the landscape is green and lush all year round.
Beyond the aesthetics and easy maintenance of artificial grass, dog owners can rest assured that the installed materials are a safe area for their pets. The key, of course, is to shop for high-quality turf products and a professional artificial grass installation that will last for years.
The Best Artificial Grass in Toronto for Pets
With artificial grass Toronto, professional installers provide the best results. From the prep work to the finished install, it's much better to work with an expert. Whether you're planning to install indoor or outdoor artificial turf, Echoing Green can provide a quality approach for long-term results.
We've been satisfying both residential and commercial customers for many years, and backing up our superior workmanship with a 10-year warranty. If you're thinking about installing artificial grass call Echoing Green at 647-494-4883 or visit our website at https://www.echoinggreen.ca.