Artificial Grass Holiday Gift Guide
Artificial grass in Toronto is more than just a sensible choice for property owners looking to reduce their maintenance demands and costs. In actuality, synthetic turf is more than just a simple lawn replacement for homeowners. Many people around the city and throughout the country could benefit from artificial grass including parents, pets, kids, golf lovers, new homeowners, interior designers, and more. The versatility of synthetic turf from putting greens to backyard landscaping allows you to get creative with your gifting this holiday season.
Here's your guide to gifting with artificial grass in Toronto and throughout Ontario with Echoing Green.
Gifts for Pets & Pet Owners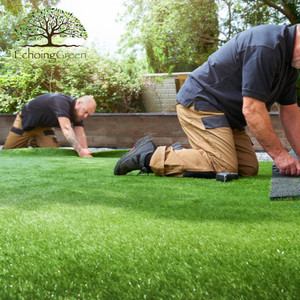 Just like every other member of your family, your furry family members deserve a great gift. Artificial grass in Toronto is a popular choice for pets and pet owners. Echo60 is our advanced pet turf that can be installed both indoors and outdoors to enhance convenience for pet owners living in condos around the Greater Toronto Area. Pet turf can be used as training areas, pet-friendly landscaping, and easy-to-clean potty pads.
Golf Lovers
Nothing shows how much you care about someone like a custom gift that gives them access to the game they love at their disposal. If you have someone in your life who loves to hit the links, a custom synthetic turf putting green might be the way to go this holiday season. With Echoing Green, you can entirely customize your design, choosing the shape, topography, and slope of your golf green. You can schedule your putting green project in the spring for a high-quality backyard putting green or opt for a year-round green installed indoors with Echoing Green, simulating a real golf course experience.
New & Growing Families
Expecting and new parents are always looking for ways to upgrade their space for the health and development of their kids. With artificial grass in Toronto, you can help your partner or a loved one give their children a functional play area with safe and fun flooring. At Echoing Green, synthetic turf for kid-centric spades is installed with our advanced EchoPlay under padding, which offers shock-absorbency and fall protection to minimize playtime injuries. Not only is synthetic turf a safe option, but it's also easy to clean and entirely customizable, from colours and height to shape. At Echoing Green, our artificial grass in Toronto is engineered for durability, withstanding the high intensity of playtime without flattening or coming apart.
Backyard Enthusiasts
Ahead of a new year, many people in your life may be thinking about new beginnings for their backyard. Artificial grass in Toronto can be used to rehaul entire outdoor spaces or as design features throughout your backyard. Artificial turf can be installed around swimming pools, on decks, balconies, and even rooftops. Or, you can customize outdoor welcome mats for decks and front doors that are a colour of your choice and even a custom logo or emblem.
Get Gifting with Artificial Grass & Echoing Green
The possibilities are endless with Echoing Green. With a range of luxury artificial grasses in stock engineered for performance, you can customize a great gift or plan your upgrades for 2023. To learn more about our selection of synthetic turf and artificial grass installation services, reach out to the team for a consultation.