How to Bring Life to Your Rooftop Patio with Artificial Grass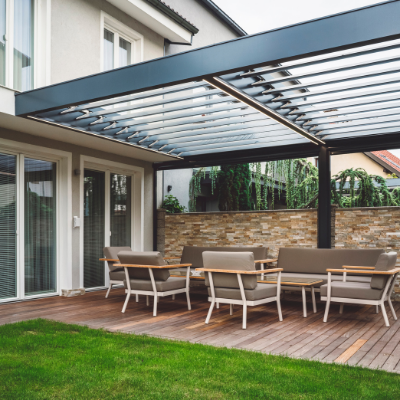 If you're lucky enough to have a rooftop patio, you might consider artificial rooftop turf to enhance the look and feel of the outdoor space. Artificial grass for rooftop applications has become quite a popular option, mainly because of the benefits.
Today, rooftop patios (or decks) are more and more common in townhomes, condos, and even apartment buildings. This is a very special outdoor space, and rooftop turf can make the entire environment more functional and comfortable.
Artificial grass for balconies and rooftop can be installed over an entire patio area or just a portion. It will look and feel like natural grass but without any of the extensive maintenance demands. Even better – there won't be any bugs or weeds to deal with.
Some Great Reasons To Install Rooftop Turf
Depending on the size and layout of the rooftop patio, artificial grass can be installed for a variety of reasons. The key, of course, is to have the work done professionally, with high quality products.
Create a striking and welcoming outdoor living space
Install a private "putting green" for the golf enthusiast
Create a safe, secure play area for children (and pets)
Design the foundation component for a rooftop garden
Install a specific outdoor area for your pet's "restroom"
Things to Consider with Artificial Grass for Rooftop
Installing artificial grass on a rooftop patio can expand the living space of your home. Naturally, the construction integrity of the patio and the load bearing capacity must be appropriate for installation. Otherwise, artificial grass can be effectively installed on practically any surface.
With artificial grass, it's not recommended to have a fire pit or barbecue anywhere nearby. In fact, the grass can be easily damaged from the heat or fire embers. With this in mind, it's still possible to have a fire pit or barbecue, but not anywhere near the artificial grass (the risk is too high).
By design, a rooftop patio has the appropriate drainage, but everything must be in good condition prior to installing artificial grass. A professional installer will provide the required specifications, and will recommend the proper infrastructure. This shouldn't be undertaken as a DIY project.
It's true that there are money savings with a DIY approach, but the best artificial grass installation and long term results come with a professional. From the preparation, to the installation, to potential problems, a professional is the best option. More than that, product and installation will be guaranteed.
Count on Echoing Green for Rooftop Artificial Grass in Toronto
Whether it's indoor or outdoor artificial grass, Echoing Green offers top quality materials along with superior installation work. We have been in business for more than 20 years, satisfying both residential and commercial customers, and offering our unique 10-year company warranty.
If you're considering artificial grass for a rooftop patio, contact the team at Echoing Green directly at 647-494-4883 or request a compressive price quote at https://www.echoinggreen.ca. One of our in-house professionals will be in contact to offer various options for your installation.