All the Ways to Revamp Big Backyards with Synthetic Turf
Are you bored of your existing backyard and need a change? Synthetic turf is an excellent investment for green grass all year round. There are endless possibilities in revamping your backyard, from a backyard golf green or a play area for the kids. Echoing Green offers luxury European-made grass enabling more natural-looking synthetic landscaping than competitors. Eliminate the hassle of maintaining grass or any allergies with artificial grass, as well as the wear and tear natural grass goes through. Explore all the possibilities you have in creating your dream backyard.
Learn more on ways to use artificial grass in your backyard below.
Installing a Putting Green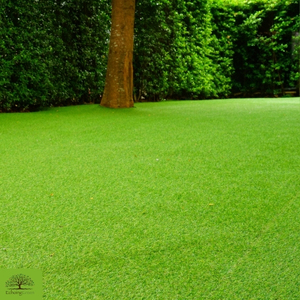 If you love spending your free time hitting the links, a backyard golf green can be a great addition to your backyard. With ample space, you can do a lot with it. You can create multiple holes for bigger backyards to play with, creating more variety and challenge in your practice. Add dimension by playing with the topography of the course and even sand pits creating a miniature golf course. Practice your swing from the comfort of your own backyard.
Pool Surroundings
Having greenery around your pool can add great aesthetics and dimension to your backyard. By adding that pop of green, it can tie the backyard together. This can also be a great place to hang out while drying off in the sun if you don't want to get your outdoor furniture wet. Synthetic turf reduces the presence of bugs in the grass and possible allergens, as no pesticides need to be used to upkeep it. It's safe, and it always looks great.
If you do not have a pool, incorporating artificial grass is a great way to still add some colour to your backyard. Whether it's a big patch or surrounding patio slabs, you are already adding tons of value to your backyard with artificial grass.
Safe Play Area
Consider making a fun and safe play area for the kids or pets. Artificial turf can be a great base for that area. Not only is it safe from pesticides and other allergens, but it's also safe for them to roll around in and play. When artificial grass installation includes our leading EchoPlay underpadding, it enables a plush shock-absorbing cushion to soften falls and landings. For dogs, the area may be used safely as a potty pad free of toxins and chemicals. With our high-end draining system and leading EchoFresh spray, you can eliminate the odour of waste.
Artificial Grass with Echoing Green
Get started with Echoing Green today. With years of expertise, we provide high-quality artificial grass with outstanding customer service. We offer services in Toronto and around the GTA. For any space you are looking to add artificial grass, we can do it, from commercial spaces to backyards. Talk with artificial grass professionals to decide what grass is best for you, and they will also provide any further expertise you may need. Contact Echoing Green today for allergy-free, low-maintenance and green artificial grass. It's an improvement everyone can use in their life.