All the Ways Kids Benefit from a Backyard Putting Green
Every parent's dream is a safe, clean, and fun place for their kids to play. With busy lives, motivating children to play outside can be challenging, especially if they aren't on a sports team or have friends readily available. Forget these worries when you install a backyard putting green. Synthetic grass is an excellent addition to any backyard for kids due to its durability and toxic-free properties. With Echoing Green's artificial turf, your kids are able to play in the comfort of their own backyard.
Read on to learn more about the way kids benefit from backyard putting green.
Chemical-Free Play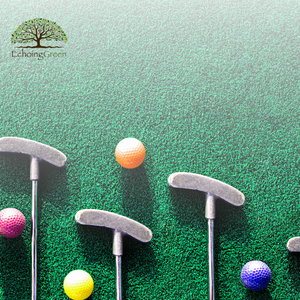 One of the many worries of a parent is dealing with pesticides and herbicides on natural grasses. Many homeowners and outdoor public parks choose to fertilize their grass to keep it looking green and fresh. Though this may work, it imposes risks of sickness to children playing on the grass. Children and infants are more likely to lay and crawl through grass and put their fingers or grass in their mouths. Kids can experience burning skin, eyes, throat and nose if exposed to skin. To ensure the safety of your children, installing artificial grass can eliminate the risks of chemicals being ingested or touched. With synthetic grass in Toronto, you can easily maintain a luscious, green appearance without using fertilizers or pesticides. With a custom backyard putting green from Echoing Green, your kids can play safely, and you can be at ease.
Shock Absorbent
When outside, especially in the rain, slips and falls can quickly happen to children running or playing on natural grass. With synthetic turf, you no longer need to worry about your kids getting hurt while playing in the backyard. With EchoPlay artificial grass, your lawn is left with durable, soft, and high-quality turf that can be played on all day. EchoPlay is used during installation to enhance comfort and soften falls or slips. The durable and lightweight polyethylene underlay foam provides shock absorbent technology allowing the underlay to drain so your kids can play safely. EchoPlay can be customized to fit any space with quick and efficient installation services from the professionals at Echoing Green.
Promotes Overall Fitness & Health
As parents, you know how important physical activity is for your kids. In addition, playing outside permits your children to enhance and develop motor skills rather than those who spend time inside, including balance, coordination, and agility. Children who spend time being active outdoors are also more likely to move their bodies in ways that challenge their physical endurance, bones, and muscles. The CDC claims that regular physical activity helps kids build strong muscles and bones, reduces anxiety symptoms, controls weight, improves cardiorespiratory fitness, and reduces the risk of developing heart conditions. Not to mention, golf strengthens the core and spine muscles and allows them to develop healthy exercise habits. Building your very own putting green gives your children easy and controlled access to outside fun for daily exercise.
Why Parents Love Putting Green For Kids
Installing a putting green in your backyard is a great way for your kids to enjoy the perks of being outside while having a great time. Knowing that your children are safe on your lawn is a great feeling and allows you to not stress over the quality of your grass. With Echoing Green, you can putt all year long while knowing your turf is long-lasting, safe, and easy to maintain. For affordable and environmentally friendly turf, choose the technicians at Echoing Green for reliable installation services.
Call Echoing Green for installation services today!