Achieve Your 2023 Health Goals with a Backyard Putting Green
It may be challenging to keep up with health goals, no matter how well-intentioned your new years' resolutions are. However, with the help of Echoing Green, improving your health and sticking to resolutions can be made easier. For a unique way to achieve your health goals this year, consider an artificial putting green for your backyard. Backyard putting greens from Echoing Green are a fun way to practice your putt and keep your mind and body healthy. This year, revolutionize your backyard and exercise regimen with putting green built with luxury artificial grass in Toronto from Echoing Green.
Read on to learn how a synthetic putting green can help keep you healthy.
Get Sunlight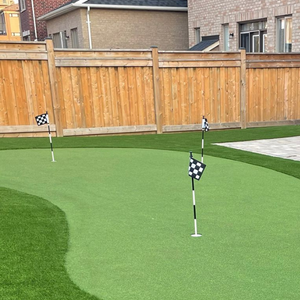 Getting a synthetic backyard putting green gives you one extra excuse to go outside this spring and summer and get more Vitamin D. Vitamin D is a crucial part of a healthy body and mind; it helps with your immune system and helps boost energy levels.
Improve Heart Health
Cardio and exercise are great for heart health, but conventional cardio isn't for everyone. Backyard putting greens offer an alternative to traditional cardio. When you're practicing your putt, your body is moving, your blood is circulating, and you're getting your heart rate up. Using your synthetic putting green from Echoing Green on a regular basis will improve your heart health and reduce the risk of cardiovascular issues. You can customize your Echoing Green putting green, from hole placement to topography, so it challenges you and keeps you out and moving for longer.
Burn Calories and Be More Active
Golf isn't an intense, high-energy sport, but it does keep you moving and burning calories. While you may not feel like it's an extraordinary workout, it is. When you're putting, you're not just trying to get the ball in the hole; you're going for a walk and working on your functional strength. Golf involves constant movement that helps you be less sedentary.
Enhance Mental Wellness
Whether you want to practice your short game with your friends or on your own time, installing an artificial backyard putting green will enhance your mental wellness. Golf is a sport that's good for your brain; it helps with focus and requires you to think fast and creatively. If you putt with your friends, it enhances competition, creates a social environment, and is excellent for your self-esteem. This year, if you want to better your mental well-being, visit Echoing Green to learn about synthetic putting greens for your backyard.
Enable Better Sleep
Without proper sleep, days become long, and your energy becomes low, so it makes sense that enhancing your sleep this year is one of your health goals. Your backyard putting green provides you with exercise, fresh air, mental stimulation, and natural light, all of which will help you sleep better. While golf and putting may feel like a low-impact activity, it's still an effective workout that takes up a good part of your day.
Benefits of Putting Greens from Echoing Green
Artificial grass putting greens are customizable, long-lasting, and low maintenance, saving homeowners expenses and increasing recreational time. If you're terested in a synthetic putting green to help your physical and mental health, visit Echoing Green. Echoing Green's durable, long-lasting, and completely customizable putting greens will help you accomplish your health goals this year.