6 Areas Where You Can Install Pet Turf At Home
Life gets busy sometimes, and the last thing you want to worry about is your pet having an accident on your floor or carpet while you're not home. Between the tedious cleaning and stains from our pets, there has to be a better solution. Fortunately, artificial grass in Toronto is a revolutionary option for pet owners. More and more people with furry friends have decided to install pet turf. Whether you work long days or have a puppy in training, artificial grass will have you never looking back.
Here are some places in your home where you can install artificial grass.
Inside Your Home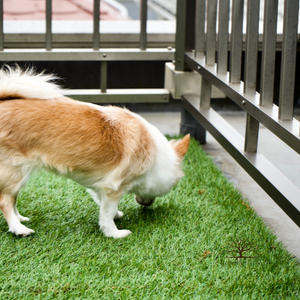 Many people don't know that pet turf isn't just for outdoor application; it can be installed inside, too, in various areas of your home, maximizing customization and convenience.
Living Room
Artificial grass can be installed on various smooth, flat surfaces. Your living room is an excellent option if you're out of the house for long hours and your pet is home alone; instead of risking an accident that could ruin your floors, save yourself the trouble with artificial grass in Toronto.
Bedroom
Perhaps your pet stays in your room, or you have roommates. Regardless of the reason, artificial grass installation is easy, from cleaning to disinfection, with no stains or odours left behind.
Outside Your Home
Backyard artificial grass installation is another option that's popular with homeowners. Instead of stressing about watering or mowing your lawn, you can now sit back and relax while appreciating the beautiful view of your turf and spending your extra time with your pets. Our artificial grass at Echoing Green has a beautiful finish that leaves our customers happy. No more time-consuming work in your backyard; instead, live with no worries and easy maintenance.
Backyard
Homeowners and renters in Toronto love the aesthetic and low maintenance that artificial grass offers. Say goodbye to worrying about your pets encountering toxic chemicals on grass and say hello to non-toxic, pest-free, weed-free, and stain-free artificial grass.
Deck/Porch
Are you getting splinters on your deck or porch? At Echoing Green, we specialize in artificial grass installation on wooden surfaces, providing you and your pets with more comfort no matter where you are on your property. Not to mention, it helps with temperature control on those cold nights.
Balcony
Many condo/apartment owners and renters around Toronto love installing artificial grass for dogs on their balconies. Due to having no backyard, pet owners can allow their pets to use the bathroom on the turf instead.
Concrete
We all know how hot concrete can be in the summer; now imagine how hot it is for our pets' paws. Artificial grass is perfect for protecting our animals all year round. Dogs and cats have sensitive paw pads and are vulnerable to heat. Paved surfaces such as concrete and asphalt can become searingly hot, causing blisters or burns on their paw pads.
At Echoing Green, our premium artificial turf is equipped with UV protection that deflects heat caused by the sun's power light rays. In addition, natural silica infill provides a cooling effect. Together, these elements cool the turf's surface, making it more manageable for dogs and cats.
Why Choose Echoing Green?
Our professionals at Echoing Green are here to deliver you the best pet turf in Toronto with quick, affordable and easy installation available.
Contact us today to learn more!