5 Ws of a Backyard Putting Green in Toronto
Artificial grass has been gaining traction for residential landscaping at a growing rate because of its many benefits. While artificial turf is typically for lawns, backyard, and patios, it can also be installed as a functional backyard putting green. Putting green turf in Toronto is manageable, cost-effective, and an innovative choice for the standard backyard. If the idea of a backyard putting green is new to you, read on to learn if it's right for your home!
Who Is a Home Putting Green For?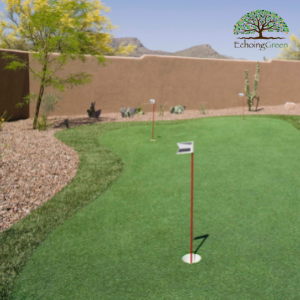 While a backyard green is an excellent gift for golf lovers, these outdoor features don't have to be limited to the next PGA champ in your family. Home putting greens are great for anyone looking to shake up their backyard functionality. Putting green turf from Echoing Green is non-toxic, making it safe for kids and pets to enjoy! You can entertain, play, or practice for years without seeing wear and tear to your custom putting green.
What Is a Backyard Putting Green from Echoing Green Like?
A backyard putting green turf from Echoing Green is designed using exclusive artificial grass, manufactured in Europe according to the highest standards for synthetic turf. Our turf is designed to mimic the appearance and sensation of being on a golf course from the comfort of your home.
A natural grass putting green typically requires laborious and tedious regular maintenance to upkeep the lush, green, groomed appearance of an actual golf course green. At the same time, artificial turf sustains its appearance and functionality all year long. Customizable artificial grass golf greens facilitate drainage, deter mold, and minimize backyard maintenance significantly.
Where Can a Putting Green Be Installed?
Artificial grass putting greens are often installed in backyards, but they can actually be installed anywhere around - even inside! Artificial putting green turf in Toronto can be installed over concrete or another durable flat surface -- no need for dirt. When you choose an indoor putting green, you can sharpen up on your short game throughout the year, even when it snows.
When Can a Putting Green Be Used?
A backyard putting green installed with artificial putting green turf in Toronto is designed to endure the city's ever-changing weather conditions from snow, rain, heavy winds, and extreme heat. Artificial turf stays ever-green all year long, so as long as there is nothing impeding access to your golf green, you can use it!
Why Add a Putting Green to Your Home?
An artificial grass putting green mixes up the traditional backyard, adding a new, fun element for the entire household. Putting greens reduces the amount of natural grass in your backyard without disturbing the balance of green space. In minimizing natural grass, a backyard putting green eliminates the amount of time, money, and resources spent on lawn care throughout the year. Also, putting green turf is installed to resist weeds without any herbicides or manual lawn care, which means you can have the perfect backyard with significantly less effort.
How Should a Synthetic Golf Green Be Installed?
Putting green turf in Toronto should be installed by a professional. At Echoing Green, we provide custom-designed golf greens as well as expert installations. We build backyard putting greens with high quality, enviro-fill infill to maximize performance, durability, and longevity.
If you are ready to install your backyard putting green with premium putting green turf in Toronto, contact Echoing Green today!