5 Ways to Use Artificial Grass in Toronto Indoors
Traditionally, artificial grass in Toronto is used as a replacement for demanding lawns and backyards. But beyond just lowering the maintenance needs and costs of your yard, custom artificial grass can be used decoratively as well. One of the many benefits of artificial grass is its versatility. Since synthetic turf needs no light or water to maintain its visual appearance, artificial grass can be installed easily indoors.
At Echoing Green, we supply custom artificial grass in Toronto and the surrounding area, so you can unleash your most creative ideas. Here are some fun ways you can use artificial grass in Toronto indoors.
Carpeting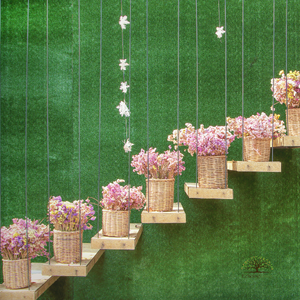 Some people love the sensation of voluminous grass on their bare feet. With artificial grass from Echoing Green, you can create a faux grass carpeting that offers the same look and feel as healthy, vibrant natural grass without insects, mould, or dirt. Not only does the addition add a pop of colour and a comfortable surface to hard floorings. At Echoing Green, you can choose custom artificial grass colours, cut the turf into different shapes to fit unique spaces.
Wall Decor
Imagine an accent wall that's not only a different colour but a whole new texture too. Artificial grass on the walls is an excellent choice for plant lovers and botanists. On your wall, custom artificial grass serves as a unique backdrop for photos and cake tables. Whether you install turf on your wall temporarily or permanently is up to you, but it will last for decades when you choose Echoing Green.
Putting Green
Indoor turf doesn't just have to be an accent piece. It can be fun and functional too. At Echoing Green, we design and install custom indoor putting greens. Working with our team of artificial grass golf green specialists, you can create a totally unique putting green for the golf lovers in your life. We can customize the topography, shape, and hole location for a totally optimized experience. An at-home green makes golf accessible all year round.
Door Mats
During the rainy and snowy season in southern Ontario, transitioning from indoor to outdoor is often messy. Most people unintentionally trek mud, water, and snow into the home. To help keep your home dry and clean, you can install artificial grass door mats at your front and back door, even on wooden decks and balconies, to wipe all the unwanted dirt off your feet before entering. With custom artificial grass, you can brand a logo or a name into your turf mat to really get that welcome mat feel.
Play Areas
Artificial grass from Echoing Green is engineered and installed to be completely non-toxic, making it both kid-friendly and pet-friendly. If you have designated areas for kids or dogs, artificial grass can add a fun textured surface to any of these spaces that are also easy to maintain. Being soft and easy to clean, artificial grass indoors is perfect for even the most spill-prone kid.
Sound Proofing
A lesser-known benefit of artificial grass is that it has some soundproofing qualities. So, if you're looking to reduce the sound going in or out of your home, artificial grass on the walls or the floor of condos can be a smart move to maintain a noise-free environment.
For all your artificial grass needs near Toronto, Echoing Green provides exclusive, premium turf in Toronto.